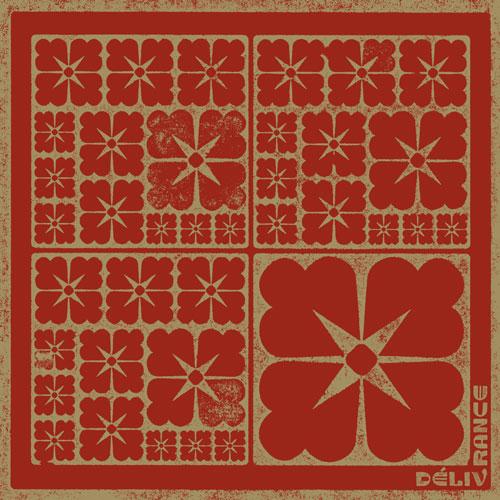 Délivrance
by
A Hawk And A Hacksaw
Formats:
CD (BAY 64CD) Limited Edition LP (BAY 64V) Digital (BAY 64E)
Release Date:
18 May 2009
The journey of A Hawk And A Hacksaw – Jeremy Barnes (vocals, accordion, drums) and partner Heather Trost (violin) - has embraced the sounds of myriad places and people. From the midlands of England, to France, the Czech Republic, Romania and Hungary, via the pair's hometown of Albuquerque, New Mexico, this evolving musical story continues to enthrall. Délivrance finds our protagonists forging deeper into the culture of the old East, and coming back with a suite of euphoric melodies for times of revelry.
We join the story following the release of A Hawk And A Hacksaw's third album, The Way The Wind Blows, in late 2006. The couple make an initial foray to Hungary that results in an EP entitled A Hawk And A Hacksaw And The Hun Hangár Ensemble. Jeremy and Heather relocate full time to Budapest to forge closer bonds with the ensemble members ahead of an important national UK tour in May 2007.
"We had to move to Budapest in order for our tour with Hun Hangár to work," Jeremy explains. "Folk music is very strong there, and after living in Budapest for a few months, we became a band, and good friends as well. We'd practice at the trumpeter Ferenc Kovács' house. He lives with his family - his wife, three daughters, and both his mother and his mother-in-law. He also makes Pálinka, a Hungarian fruit brandy, and we have to have a shot before we begin, no matter what time of day it is."
The band wends its way across Europe and the near East, and on to Australia and New Zealand. By the end of the year, they have played two All Tomorrow's Parties, at the behest of Explosions In The Sky and Portishead – the latter inviting AHAAH to become the first-ever band to open for them on tour in April/May 2008. A summer '08 tour in North America includes the Pitchfork Festival in Chicago. Besides these 'official' shows, AHAAH garner a reputation for spontaneous performances in the street, or popping up as they did in London, at a Romanian restaurant on the edge of the City. "When we played in Jerusalem, we brought the audience out to the main street, and had a little concert there," Jeremy says. "Orthodox Jews stopped to listen, people were dancing, someone had a drum and played with us. A birthday party came out of a bar and circled around and danced. It was crazy."
The delirious, celebratory sound of A Hawk And A Hacksaw has attracted a plethora of new fans across the planet, who can be seen bouncing off the walls at their ecstatic shows.
"We saw a lot of that when we were in Budapest," Heather says. "Watching musicians who were there for the party, to entertain and provide music for dancing was very interesting. So maybe that's inspired us…"
The bond between Jeremy, Heather and their Hungarian associates finds glorious voice on Délivrance.
"The songs were all written and inspired by our time there. It felt like we were trying to document what we had learned and played in Eastern Europe. So we tried to get everyone we had played with on the album, plus a few people whom we love and admire," Heather explains.
Recorded in Budapest during mid-2008 around the core of the Hun Hangár group, with a variety of specialists (Jeremy would often take the train to different places around the city and record musicians like Kálmán Balogh, one of the world's foremost gypsy cimbalom players), it is wholly evident that months of being submerged in the local culture and making music the focus of daily life has seeped right through Barnes and Trost's songwriting and playing. This is by far their most vivid, intense and confident work to date.
"We're not striving to find the authenticity of one region," Jeremy asserts. "I guess we have an outsider's view of this music, and we are trying to learn it, but also learn from it. We want to write music that reflects on us as Americans and outsiders as well."
Délivrance encompasses sounds from a vast geographical region, and reflects particularly colourful exchanges Jeremy and Heather had during their Budapest stint.
"We like to think of music as a sort of borderless artform," says Heather. "If anything I am trying to learn to not have any walls around myself, musically or otherwise. Travelling through Transylvania had a huge affect on me. The musicians we met had such a huge wealth of knowledge, about not only the music of their own and nearby regions, but textiles, artwork and pottery. It was very humbling to meet such open and warm people."
Israel and Turkey left a deep impression on Jeremy.
"The architecture, the food, the people. Communing with stray cats in the street, the sounds of the call to prayer in Istanbul. The incredible mix of people in Jerusalem - Muslims and orthodox Jews passing each other on the street, Baptists from Texas, the Ethiopian church, the Greek Orthodox priests. I also love the region between Hungary and Romania in the north down to Turkey. There are a lot of similarities in the music that go beyond the borders and beyond the ill feelings some of these groups have for each other."
A mix of traditional songs and original compositions appear on the album. Opener 'Foni Tu Argile' is from Greece, traditionally played on bouzouki with vocals. With the help of collaborator Chris Hladowski (Scatter, Nalle), it is transformed into a righteous instrumental stomp with an incredibly seductive, heavily percussive melody that is rich with colour and almost seems laden with spice and incense. 'Kertész' sets off a frenzied accordion, racing against the flashing bow of the violin and distinctive sound of the cimbalom, a dulcimer-like instrument played with sticks. "The inspiration for this song was '60s Bucarest café music, like the diva Romica Puceanu," says Jeremy. "Bucarest café music was influenced by Turkish music of the 18th and 19th centuries. In many ways, Romania and Hungary are very close musically."
'Raggle Taggle' (named after a book by Walter Starkie, an inspiration to Jeremy) touches on a plangent note of sorrow before the violins caper off into a heady dance – an example of typical Hungarian style, but with new melodies. On the accordion-led 'I Am Not A Gambling Man', written several months before the financial meltdown of 2008, we learn that "There will be no hunting season this year / All the hunters have been poisoned by an old deer". Then, "In the cities and the towns / All the banks have been closed down / the bankers have all gone home / to make love to their wives / like they were 25". There is barely a moment to rest before 'Turkiye' urges another breathless dancing spree, this time the trumpet blares atop a swathe of melodies from Turkey, Serbia and Bosnia alongside some brand new ones. The evocatively titled 'Vasalisa Carries A Flaming Skull Through The Forest' has the aspect of a funereal march, with the clarinet in the spotlight.
"I feel like we are getting closer to where we want to be," Jeremy contends. "I've learned a lot, about yearning to be somewhere else, about taking your culture for granted, and about music. Although I doubt I will ever be able to play the accordion on the level that I would like to. At this point what we are doing can be seen as either painting yourself into a corner, or climbing a mountain… I would opt for the latter."
"One hell of a street party" Album Of The Month, Songlines
"Evocative, aromatic delights. A triumph of ensemble playing" The Wire
"A Hawk And A Hacksaw are doing entirely their own thing, and that should be applauded, loudly" 9/10 Clash
8/10 NME
4/5 The Guardian
4/5 UNCUT