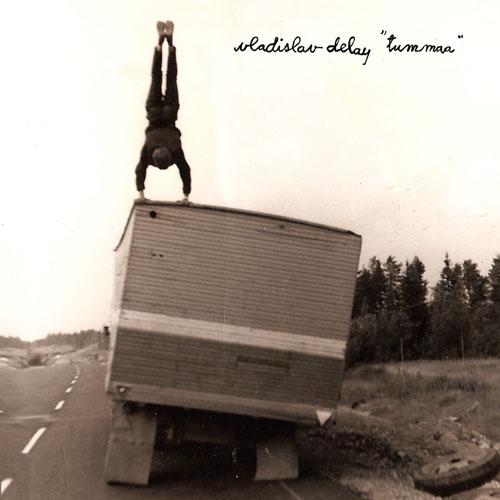 Tummaa
by
Vladislav Delay
Formats:
CD (BAY 72CD) Limited Edition Double LP (BAY 72V) Digital (BAY 72E)
Release Date:
24 August 2009
Finnish composer Sasu Ripatti returns in late summer with Tummaa, his first album as Vladislav Delay since 2007's Whistleblower. The new album marks a significant shift in emphasis in this acclaimed musician's work, reflecting a renewed interest in jazz and acoustic performance: Tummaa is far more organic and live-sounding than anything he's done before.
Ripatti is considered a genuine musical maverick; the devotion inspired by the depth, innovation and emotional volume of his music is passionate in the extreme. While he has largely shunned the limelight since emerging as a producer in Helsinki in the late 90s, his prolific output (as Delay, Luomo and Uusitalo, as well as collaborations with partner Antye Greie (AGF)) speaks for itself.
His accomplishments include collaborations with a vast array of musicians and singers such as Craig Armstrong, Black Dice, Massive Attack, Towa Tei, Jake Shears, Robert Owens and Ryuichi Sakamoto. Since returning to live in Finland in 2008 after seven years in Berlin, Sasu Ripatti has begun to emerge more fully as the identity behind this decade of fascinating, although somewhat clandestine endeavours, coinciding with a return to Ripatti's first love of performing as a percussionist.
With a wide range of experience with record labels throughout his career (from major labels with the Luomo project and the cream of the underground via Mille Plateaux, Chain Reaction, Force Tracks, and BPitch Control among many), Ripatti has for the last five years released works on his own Huume label. So it's with great pride that long-time admirers The Leaf Label welcome Ripatti for his landmark latest release as Vladislav Delay. It marks the beginning of a new chapter in the Sasu Ripatti story.
"I wanted to take a new direction with Vladislav Delay, with more acoustic sound sources," he explains. "I avoided as much electronics as possible, wanting to bring myself closer to my background as a drummer and percussionist."
Trained as a jazz drummer, Ripatti abandoned his instrument ten years ago. "I quit mainly because there wasn't really a platform for me to do what I wanted and it's naturally very rewarding to be able to do that now, coming at it from totally different angle as my playing and concepts have been strongly influenced by the electronic music as well as other urban music styles." Outside of his work as a solo artist under various nom de plumes, Ripatti has also begun performing live as a drummer again, as a member of the Moritz von Oswald Trio (with a forthcoming album on Honest Jon's) and in his own band the Vladislav Delay Quartet (featuring Mika 'Pan Sonic' Vainio, double bassist Derek Shipley and Lucio Capece), who will record an album later this year.
"This was also a big part of me getting back to playing percussion and drums," Ripatti says of the Moritz von Oswald Trio. "It's really inspiring and challenging what I can do with the trio, bringing very unique sounds, metal sculptures and handmade instruments and fusing them into what Max Louderbauer and Moritz are doing with electronics. It's just my first love and strongest as well. I just love hitting things... making sounds physically without needing a power plug."
Tummaa essentially features a live trio – Ripatti on percussion, Argentine musician Lucio Capece on clarinet and saxophone, and acclaimed Scottish soundtrack composer and arranger Craig Armstrong on piano and Rhodes (Ripatti previously collaborated with Armstrong on the 1995 album The Dolls, along with Ante Greie). Ripatti set the tone, recording his drum parts and then inviting Capece to his studio to improvise alongside the drums. Armstrong offered recordings of pure solo piano playing he had made for the project. From these two sound sources, Ripatti began composing and arranging, and wrote a whole suite of music.
"With this project and these sounds I try not to let any outside influence come through and just fully trust my instincts to make the music I really need to bring out and hear. I try not to think or analyze, I just go at the moment and play as I feel. It's the introverted and slightly darker side of me, the anti-pop persona that comes out on this project."
Created during the winter while Ripatti and his family were living on a remote island in the Baltic Sea within the Arctic Circle, he explains that "Tummaa means dark or darkness, which reflects the music on the album somehow but also the fact that I worked on the album during 'kaamos' time of the year in Finland. Kaamos time really gets dark from December to February where you only have few hours of light per day. I really liked that and the whole winter enormously."
The results are jaw-dropping. Venerated as a master of rhythm and a true artisan of the studio (the photos of his immaculate analogue studio from The Wire's 2008 cover shoot had gear hounds aquiver) capturing resonant, organic and acoustic sounds and coercing them into unearthly cadences and foreign textures that are unlike anything else – yet irresistibly hypnotic. (His disclosed past as an enthusiast for mind altering substances comes as no surprise). Ripatti's love of jazz is also never far from the surface.
"Jazz has been the most influential thing in my life without a doubt. Musicianship, creativity, pushing the limits, improvisation… I think no matter what type of music I'm making my jazz roots and appreciation of it plays a big role. There are some exceptional things that happened during the 60s and 70s that are very important to me. What some of the greats did shaped the future of music so strongly. Miles Davis, but also John Coltrane, lots of drummers, Bill Evans and his trio…"
Tummaa's compositions are engaging and engulfing, whole worlds of sonic wonder and journeys into the deep that will leave you gasping. The constant push for more honest and revealing emotions abut against the same desire for absolute integrity of the sonic qualities. It's a heady combination.
Armstrong's waterfall piano and Rhodes infuse 'Melankolia' with sweeping emotion amid the tension and intensity of Ripatti's fractured, almost industrial percussive fragments, anticipatory fizzes and low-end hums. In some ways, this is a very gentle introduction to the incredible galaxy of sound contained on 'Kuula (Kiitos)' (translated as 'Bullet (Thank You)'), where glimmering piano bleeds into the fabric of Capece's strangled bass clarinet and muffled soprano sax, entwined with a scattering of grainy beats.
By far the most immediately striking piece is the woody, resounding animal honk of 'Mustelmia' (meaning 'Bruises') where a defiantly springy, bouncy array of volcanic beats and liquid gulps and pops erupt in response to Capece's eerie tones and textures. While 'Musta Planeetta' ('Black Planet') is a more meditative play across the keyboard timbres, 'Toive' ('Wish') builds into a crescendo of throbbing, submarine percussion, Capece's horns like distant wildlife in a tropical forest. 'Tummaa' has a cavernous dub sensibility, all ricocheting percussion and the Rhodes distilled to stabs or glistening feedback reverberations. 'Tunnelivisio' ('Tunnel Vision') burrows even deeper into the echo chamber, lending a psyche-cinematic drama to the album's finale.
It's not often you find yourself both dumbfounded and emotionally spent by listening to an album, but Tummaa is a feat of uncommon musical power and magnetic force. Once introduced to Sasu Ripatti's hypnotic world, you won't ever want to leave.
The limited edition double vinyl LP of Tummaa is cut from high quality 24-bit audio masters, using DMM.