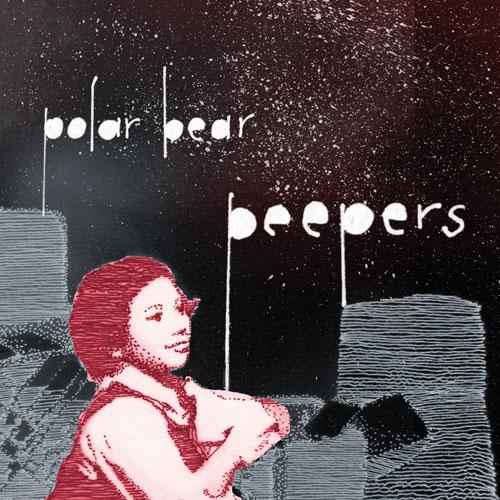 Peepers
by
Polar Bear
Formats:
CD (BAY 74CD) Limited First Edition DMM Vinyl LP + CD (BAY 74V), 2015 DMM Leaf 20 White Vinyl LP + CD (BAY 74V) Digital (BAY 74E)
Release Date:
1 March 2010
Categorising Sebastian Rochford poses problems. Jazz is at the heart of his work, yet his understanding of and engagement with a wide range of genres are such that it's impossible to shoehorn his recordings into neat and tidy boxes. Peepers is Rochford's fourth album as the leader and percussionist of the London-based Polar Bear, alongside collaborators Leafcutter John, Tom Herbert, Pete Wareham and Mark Lockheart. It confirms that the unassuming but sharply focused young Scot is pursuing his muse as openly and as adventurously as possible, studiously avoiding any straight retreads of his previous work while letting a distinctive composer's voice come to the fore.

More than its predecessors (2004's Dim Lit, 2005's Mercury Prize-nominated Held On The Tips Of Fingers and 2008's Polar Bear), Peepers sounds very close to a live Polar Bear performance. The kind of session that has won the group a diverse audience with exuberant music that opens out into moments of freewheeling abstraction. Rochford's gift for melodic writing acquires new depth on this latest venture, where the music displays both art and pop sensibilities in the most organic and coherent fashion. "I wanted to open the music up with a different kind of harmony," he says.
Above all there is a sense of completeness in the emotional sub-text of Rochford's writing. Peepers has moments of unbridled joy – like the euphoric 'Happy For You' – where the whole band bounces on a rock beat without resorting to cliché. In the front line, the two tenor saxophones create prickly, grainy timbres and also let rip with solos that contrast the marked difference in tone between the two players. If there is a certain ruggedness in the way that the instruments come across in the performance, it is wholly intended. Rochford insisted on simple working conditions.
"The recording process was definitely different this time," he explains. "I wanted to record this album as raw and spontaneous as possible with us just setting up in a room and playing, with no separation or headphones. I thought this would alter the way we played together in the studio, hearing how the tone of our instruments blended naturally like we do in rehearsals or gigs.
"Many of my favourite albums were recorded this way so I wanted to try it and see. I also wanted to record the tunes when they were in a more naïve state, so I didn't give most of the music to everyone till just before the recording, when we had two gigs at [north London venue] the Vortex and then two days in the studio."
Such a relative lack of preparation might unsettle many bands, but Rochford's desire to challenge himself and his band members is an essential part of his creative drive. In the last few years this has produced music that has been widely acclaimed, including a BBC Jazz Awards Rising Star gong and the inclusion of Held On The Tips Of Fingers in Jazzwise magazine's 100 Jazz Albums That Shook The World and The Guardian's 1000 Albums To Hear Before You Die. He has performed with everyone from Joanna MacGregor and Andy Sheppard, Brian Eno and David Byrne, to Pete Doherty and Herbie Hancock, and as part of Acoustic Ladyland and Basquiat Strings, as well as in his own projects Fulborn Teversham, Room Of Katinas and Big Dave.
If his bandmates provide Seb Rochford with a high degree of technical and creative skill to help fulfil his artistic vision, they are also capable of gelling as an ensemble - by no means an obvious occurrence among virtuoso musicians. Much of the success of Peepers results from precisely this cohesion, as well as the freshness of Rochford's writing. The unsettling crackle that John draws from his laptop on 'Drunken Pharoah' is vividly enhanced by the close harmonising of the mighty twin tenor sax frontline while the drums and bass keep a tight lid on the bottom end of the music. Everybody plays with great attention to sonic detail.
Elsewhere, 'The Love Didn't Go Anywhere' sees Leafcutter John play guitar on a beautifully loping piece that has the subtle afterglow of classic Roxy Music, with Bryan Ferry's vocal replaced by the rapier glide of the two reeds, while Tom Herbert's hefty double bass pounds out concise but penetrating lines. Interestingly, prior to the sessions, Rochford listened to a lot of '60s soul ("Aretha and Marvin Gaye"), an influence that he has channelled with more guile than is immediately discernible.
Rochford's bandmates have that vital mixture of experience and youth, maturity and energy that often defines the best ensembles in improvised music. Tenor saxophonist Mark Lockheart has been a highly respected player on the British jazz scene since the early '80s, when he debuted with the revered big band
Loose Tubes
. Pete Wareham, the group's other tenor player, is best known as the leader of
Acoustic Ladyland
(in which Rochford also drums). Double bassist Tom Herbert was also an original member of Wareham's band and has racked up a huge list of credits through his work with anybody from stellar jazz soloists Andrew McCormack and Finn Peters to membership of 2009 Mercury prize nominees
The Invisible
.
Finally, Leafcutter John, who joined Polar Bear following their debut release, is an irrepressibly open-minded artist intent on exploring as many novel sound worlds as possible, while retaining a connection to folk music of the most ancestral kind. The producer of four solo albums, the versatility of John's work at any given point is breathtaking. Perhaps his most significant contribution to Peepers is the unsettling Middle Eastern influence on 'Finding Our Feet' (featuring his own recorded vocal), and it's with John's influence that Polar Bear's live performance transcends its base elements, featuring as it does playful interjections of noise triggered by games console controllers, and a balloon solo…
On his accompanists Rochford makes a telling observation. "Our friendship is really important to me. If you're friends it makes a big difference to how you and the music grow. They're all open to new things and our friendship means that it's about more than just music. Everyone's coming from a different place with different influences but can share in the same concept. It's an exciting thing. It means things can stay open."
Peepers thus stands as another strong document of both Seb Rochford's development as a bandleader and writer as well as player. This is a group album that could not have been born without the strength of character of each musician involved, a superb, rich whole that is very much more than the sum of its illustrious parts. It's also about vision. "The word peepers is another way of saying eyes," Rochford says mischievously. "A musician friend of mine uses it mainly to describe cheeky ones!"
This album was released on limited edition white vinyl as part of Leaf 20.