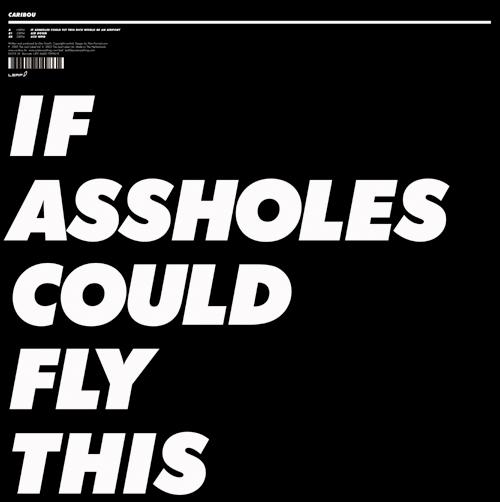 If Assholes Could Fly This Place Would Be An Airport
by
Caribou
Formats:
Limited edition 12" EP (1500 copies) (DOCK 34)
Release Date:
13 January 2003
As a sneaky treat for discerning individuals with a penchant for jiggy music with a hefty twist, Dan Snaith has recorded this follow-up to his 2-Step mash-up Give'r EP of 2001.
Not to be confused with anything on his blissed out forthcoming album Up In Flames, this one-off, strictly limited edition 12" carries the resplendent title If Assholes Could Fly This Place Would Be An Airport. The Leaf Label are pressing just 1500 copies for the entire universe, so make the most of this opportunity - you won't get another one!
'Assholes...' derives from the bumpin' laptop 'n' decks live set Snaith has been peddling on five continents this last year or so. So in a way, this release bids farewell to those days, as a new band will be gracing a stage near you very soon.
Snaith's remixing exploits on Seelenluft's classic 2002 single Manila turned plenty of heads. Mr Scruff's in fact, who asked him to remix his single Sweetsmoke – twice!
Up In Flames will be released at the end of March 2003, preceeded by the single Jacknuggeted on February 28. The tracks on 'Assholes...' will never be seen again in any other format and will not be included on the album. Got it?
PLEASE NOTE: this EP was originally released under the name Manitoba, before Dan Snaith was forced to change his artist name for legal reasons. The artwork above is a mock-up: the artwork for the original edition featured the name Manitoba rather than Caribou.
TRACKS
A. If Assholes Could Fly This Place Would Be An Airport
B1. Air Doom
B2. Ach Who