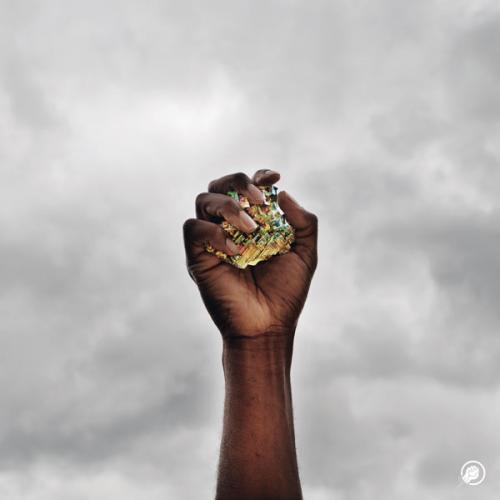 Prophecy
by
The Comet Is Coming
Formats:
Limited 12" Vinyl EP (DOCK 61) Digital (DOCK 61E)
Release Date:
20 November 2015
"In the sky will be seen a fire, dragging a tail of sparks..."
Just as Nostradamus prophesised in his quatrains, The Comet Is Coming: "The great star for seven days will burn, the cloud will cause two suns to appear and the big mastiff all night will howl."
End times are upon us people, but Danalogue The Conqueror, Betamax Killer and King Shabaka are here to spread light and joy and fire, for they are The Comet Is Coming. Marvel! As great jolts of electricity burst forth from their fingers. Gasp! As their lungs expel musical mantras as seismic as an earthquake, as heady as a timeless ritual. Swoon! At the sheer interplanetary vastness of their cosmic explosion of polyrhythmic sound and head-bending colour. And get down with it on their debut EP Prophecy.
Purveyors of freak-out space funk, The Comet Is Coming are a musical metaphor for society as it speeds towards meltdown like a fireball on an unalterable collision course. For it has been written. In 1682 and 1757. In 1997 and 2020 and 2148. Just like Halley's Comet and Hale-Bopp before them, this trio are here to blaze a trail across the firmament, smash through the atmosphere and rocket off into unknown territories on a one-way ticket to the centre of the mind's third eye. This is no doom-trip though; it's last night of the earth party-time, babes. It's a Prophecy.
Five tracks of freewheeling psychedelia and honking jazz punk mayhem is your soundtrack. Strap in and lift-off to the dizzying 'Neon Baby'. Slip down the helter skelter wormhole of 'Star Exploding In Slow Motion' and wake up dazed on a verdant astral plane in time to 'Do The Milky Way'. Moon-bathe in a sonic Sea of Tranquility that is 'Cosmic Serpent' and comedown to the dark ambient state-of-the-universe address that is 'Final Days Of The Apocalypse'. But most importantly: hit the floor and shake it like there's no tomorrow.
Here is the universe in a microcosm; the life-force distilled down to its raw essence: sex and dancing. Sub-bass, slamming analogue, unhinged sax breaks. The rhythm of life. Armageddon is coming: what better way to spend it than letting our brave young voyagers take you on a topographical journey of a different bent?
These three planets aligned in 2013, having between them played with bands including Melt Yourself Down, Soccer96, Sons Of Kemet and Polar Bear, and a plethora of other projects. Sonic comparisons? Near impossible. But let's at least throw in Space Invaders, '70s sci-fi films, the BBC Radiophonic Workshop, post-punk, '80s dance and electronica as guiding beacons of light.
"There will be fiery explosions in the skies," said Nostradamus. "Great slaughter, then triumph and festive celebrations."
The Comet Is Coming. The celebration has begun. For it has been written.