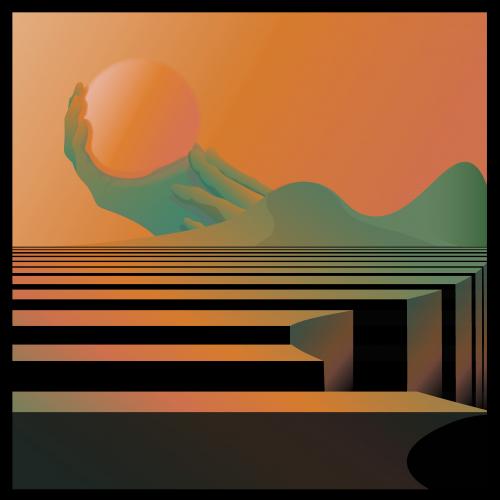 Distant Early Warning
by
Laurence Pike
Formats:
CD (BAY 109CD) Limited edition vinyl LP + download (BAY 109V) Digital (BAY 109E)
Release Date:
30 March 2018
Distant Early Warning is the debut solo album by Australian drummer, percussionist and composer Laurence Pike. For the best part of two decades Pike has operated at the cutting edge of the electronic and jazz music worlds, releasing albums to critical acclaim and touring the world with his bands PVT (formerly Pivot), Triosk and Szun Waves, and featuring on numerous albums, tours and soundtracks as a collaborator. On Distant Early Warning he carves himself a moment of reflection. The calm in the eye of the storm. An ominous portent as the rocks appear on the horizon.
Originally conceived as a technological and spiritual jazz suite for drums, Distant Early Warning is a series of solo performances for kit and sampler recorded live in a single day. "For a long time I've been feeling there's a central part of my musical voice that didn't have an outlet," Pike says. "So this album is definitely a product of inner necessity."
The album studiously avoids any rationalisation afforded by post-production hindsight. Pike uses technology in what he describes as an "intuitive way", building sound worlds to improvise within. "I create a patch of sounds that provide some sort of alternative dimension to the kit. Many of them are samples of the kit themselves. I just play with different ways to frame them and interact. I feel like my job is to get into a space where the music makes itself."
Using the sampler as a sound source alongside his kit opened the door to infinite compositional horizons. Yet juggling a multitude of ideas requires a certain discipline to give shape and purpose to the music. "With a laptop and advances in drum triggers there seem to be almost limitless possibilities, but I guess I prefer limited possibilities for the electronic component and unlimited possibilities for human decision making," Pike explains. "I've tried to keep the samples exclusively about my own drum sound, and tried to create a sense of musical ideas having multiple dimensions to them, a kind of musical conversation with myself while at the same time confounding the listener as to who is generating what."
What emerges is a sonic odyssey that creates its own space and weaves its own meanings. An album of shifting musical densities, colours, musical shapes within shapes leading to an as yet undisclosed destination. At a time when the lingua franca of our post-factual society has become lies dressed in truth's clothing with intolerance and illiberalism on the rise, Pike points out that, "The music on the album feels ominous, like a warning bell in the distance. This moment feels like a collision of ideas to me, a point of transition in human evolution. As a musician you try and stay connected and aware of changes in your environment but you don't want certain ideals to get lost in the process. I guess that's what is happening in the music, a confluence of perspectives and sounds, multiple flows of time, connecting and disconnection, known unknowns…"

Laurence Pike studied at Sydney's Conservatorium of Music, under Australian jazz legend Mike Nock. An ongoing relationship has produced two critically acclaimed duo albums - Kindred (2012) and Beginning and End of Knowing (2015). Equally at home in the worlds of rock, electronica, jazz and improvised music, he continues to work with his internationally acclaimed electronic group PVT which has performed with the likes of Sigur Rós, Arctic Monkeys, Warpaint and Yellow Magic Orchestra. 2016 saw the release of Szun Waves' debut album, At Sacred Walls, a collaboration with Luke Abbott on modular synthesiser and Portico Quartet's Jack Wyllie on saxophone. Pike has performed with the Sydney Symphony Orchestra and last year premiered his work for drums, electronics and dance with Bangarra Dance Theatre as part of the Supersense Festival in Melbourne. A former member of the seminal electronic/jazz trio Triosk, Pike is widely regarded as one of Australia's finest musicians.