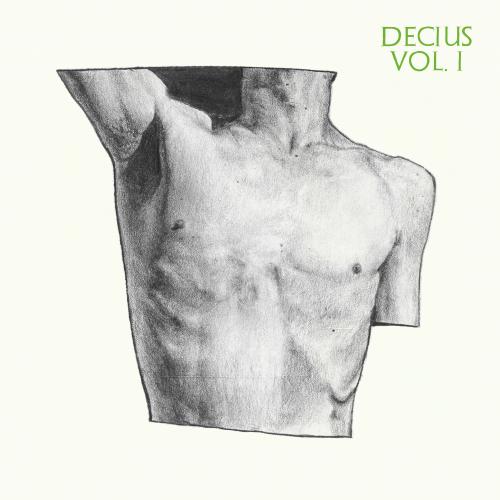 Decius Vol. I
by
Decius
Formats:
Double black vinyl LP + DL (BAY 133V) Limited edition double Imperial Purple vinyl + DL (1,000 copies) (BAY 133VX) Limited edition double CD (1,000 copies) (BAY 133CDX) Digital (BAY 133E)
Release Date:
4 November 2022 Unwashed acid house and disco through a broken South London filter - from '70s New York bathhouses to '80s Chicago nightclubs via the Brixton Windmill. Bring a towel.
Decius are brothers Liam and Luke May, founders of Trashmouth Records, together with Quinn Whalley (Paranoid London/Warmduscher) and Fat White Family frontman Lias Saoudi. Those with an ear to the ground will have picked up on a string of self-released 12"s over the last few years, supported by the likes of Daniel Avery, Honey Dijon, Ivan Smagghe, Mike Servito, 2 Many DJs, Moxie and Erol Alkan. Decius Vol. I is a lean entry point to their sordid world – dark, uncut, unrefined and unrepentant.
Fate has a way of bringing people together and it doesn't always pan out in the way you might expect. Having bonded over a love of late-night musical escapades while DJing at numerous underground London club nights, the Mays and Whalley eventually found themselves playing in New York and Miami. They were booked for events promoted by a pre-Warmduscher Clams Baker, then working for infamous house label Strictly Rhythm. This link would take on new significance years later and 4,427 miles away.
After several years producing and DJing, with residencies from Italy to Argentina, and appearances at clubs and festivals across the globe, the May brothers and Whalley wound up in South London with an urge to try something different. Trashmouth was born out of the eclectic scene which grew up around the
Windmill
in Brixton. One way or another, it launched the careers of the Fat White Family and Warmduscher, with the Mays also producing the albums
Champagne Holocaust, Songs For Our Mothers, Serfs Up!
and
Khaki Tears
. This unassuming pub venue became a hotbed of creativity – a celebration of the weird, far removed from the machinations of the wider music industry. An incestuous community raising each other up (and occasionally stabbing each other in the back), while kicking against the bankers and property developers responsible for shutting down countless venues in the city. While Decius is very much nightclub music, its seeds are swollen with this punk spirit.
"Seeing Fat White Family the first time gave me that acid house buzz, even though they weren't making dance music by any stretch," Liam explains. "Then, as an ongoing thing, we just keep looking out for that feeling. We all go back a long way, making music and being around stuff going on, so we all know what that feeling is, and if it's there or not."

"Me, Liam and Quinn had all been playing at the Windmill under various guises, then we started doing Trashmouth nights, while entangling ourselves with the Fat White Family," Luke recalls. "At a certain point, that I'm sure no-one remembers, Decius just seemed like the right thing to do."

While Whalley and the May brothers come from more electronic backgrounds, Saoudi is approaching this as something of an outsider, but following a "completely transformational" night at Berghain, he channels his inner Alan Vega and gives every impression it's a role he was born for. "Some of these song ideas date back to bands now long forgotten," Saoudi explains. "When they're sung over a blues guitar riff, they amount to little more than a hill of beans, but when you put them as a mantra over a repetitive beat they take on new twisted meanings".

With this roundabout route (back) into dance music, perhaps it's unsurprising Decius cite
Ron Hardy
as a key influence. "When we first started going out, we wanted to know about the roots of this music," Luke continues. "This led us to The Loft, The Warehouse and The Music Box. We were naturally drawn to the darkest, sweatiest and most chaotic of the three. Ron Hardy seemed to be the most unpredictable, innovative character with the rawest music."
Decius take their name from the Roman emperor who ruled from 249AD until 251AD, when he was killed by the Goths in the Battle of Abritus. There's every chance Decius will meet a similar fate, but in the meantime they're here to rule the sweatiest rooms, twisting knobs and screaming into the abyss as the world burns…
Or to put it another way:
As we pull back the folds of flesh, our shaking fists red wet with personhood, only to discover miniature versions of our future selves… Are we actually ok with this? Is life really the answer? Or is there more? Decius is little more than a throbbing question mark. Obviously.
- Lias Saoudi
Decius Vol. I is released on double black and limited edition Imperial Purple vinyl, and also as a limited edition double CD which includes a bonus disc of mixes and remixes from the Decius vault, with one previously unreleased track.
Lias Saoudi appears courtesy of Domino Recording Company Limited.

TRACKS
1. Ain't No Church
2. Masculine Encounter II
3. Look Like A Man
4. Bread & Butter
5. I-Get-Ov
6. Macbeth
7. Bitch Tracker II
8. Quick Reliefs
9. Come To Me Villa
10. Show Me No Tears
11. U-Instead Of Thought
12. Roberto's Tumescence
CD bonus disc
1. Decius - Look Like A Man (Trashmouth Mix)
2. Decius - Rupture Boutique II
3. Decius - U-Instead Of Thought (Decius x Trashmouth Dub)
4. Decius - Hashtag Booty Finger
5. Decius - Werk This
6. Decius - Taste Like Leathers
7. Decius - House Of Con-Fu-Sion
8. Decius - Cream Shudder
9. Decius - Delicate SF
10. Gensi - Primavera 707 (Decius Remix)
11. Yawn - Nothing Else Is Real (Decius Remix)
12. Taman Shud - Hex Inverted (Decius Remix)