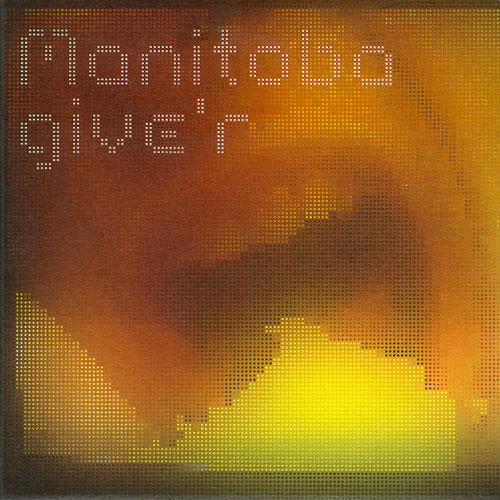 Give'r
by
Caribou
Formats:
CD (DOCK 29CD) 12" (DOCK 29) Digital (DOCK 29E)
Release Date:
26 November 2001
On give'r, Dan Snaith brings you the glorious 'Dundas, Ontario' (a tribute to his home town), with a new remix that kicks that 'folktronica' tag into oblivion. This new mix gives a good impression of the sort of thing you can expect when Dan DJs - he rocks a party like no-one else...
Then there are two new tracks: 'Tits and Ass: The Great Canadian Weekend' - a throbbing, clattering beast that falls away to unveil some of Dan's most beautiful keyboard melodies yet. 'Webers' chimes and bells like the gentlest Japanese bonsai garden. It's also "a burger joint makes the best burgers in the whole goddam world," apparently.
A label-bankrupting video in the style of a hip hop hoe-down, featuring the Dundas massive, is also included on the CD single.
So, what is this Dundas place like, anyway?
"Dundas is a little hippy place, outside a steeltown called Hamilton, where everyone is listening to the Grateful Dead, as well as to Mötley Crüe' Dan says. And Hamilton? "Mullets and glue sniffing and shitty/amazing graffiti and tons of abandoned buildings and just fucking crazy people in medieval metal outfits."
Crikey. "Dundas is cool because all the most musically tuned in people I've ever met come from there. I have no explanation as to why this is," Dan shrugs, "except it's all Koushik's fault."
Mysterious psychedelic/folk/hip hop producer Koushik managed to engineer this group of friends who got into heavy shit like 808 kick drums and snares from Schoolly D's Gucci Time, while still understanding that Zeppelin kicks the shit out of Matmos and that Spacemen 3 kick the shit out of Oval. Well said.
PLEASE NOTE: this EP was originally released under the name Manitoba, before Dan Snaith was forced to change his artist name for legal reasons. The artwork above is a mock-up: the artwork for the CD and vinyl editions featured the name Manitoba rather than Caribou.
TRACKS
12":
1. Dundas, Ontario (remix)
2. Tits & Ass: The Great Canadian Weekend
3. Webers
CD:
1. Dundas, Ontario (remix)
2. Tits & Ass: The Great Canadian Weekend
3. Webers
4. Dundas, Ontario (album version)
5. Dundas, Ontario (remix) VIDEO
OTHER
video