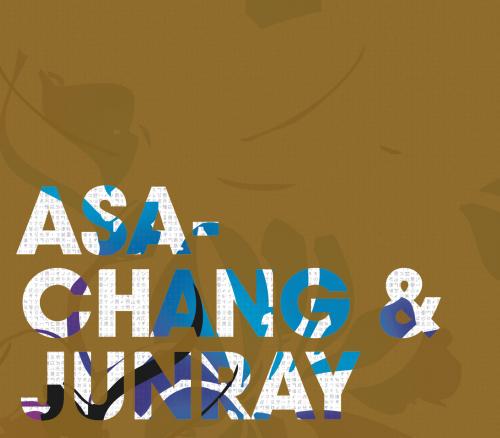 Jun Ray Song Chang
by
Asa-Chang & Junray
Formats:
CD (BAY 22CD) Limited Edition Vinyl LP (1,000 copies) (BAY 22V) 2015 Leaf 20 Edition Black Vinyl LP + CD (BAY 22V) 2015 Leaf 20 Edition White Vinyl LP + CD (BAY 22V) Digital (BAY 22E)
Release Date:
17 June 2002
Asa-Chang's music is wildly exotic, playful and lovingly crafted by human hands, and should be approached with an open mind. We doubt you've ever heard anything quite like this before...
A heady brew of Eastern percussion, babelogues of spoken word, horns, toys, flute, mandolin and an analogue synthesiser drum, which together resonates like a struck bell, oscillates wildly between breathtaking futurism and timeless spirituality, and bucks like a wild horse. Isn't it about time we heard something this fresh?
Asa-Chang & Junray is about the friction between self-taught tabla-bongo guru Asa-Chang (who spends his professional life as a touring percussionist with multi-million-selling J-pop acts), and traditionally instructed tabla master U-Zhaan. Programmer Hidehiko Urayama never appears onstage, but his presence is felt through the sound system machine, Junreitronics.
'We respect the Indian tradition but wanted to offer something back, something different, something that even Indians couldn't do,' Asa-Chang explains. 'That's how we developed the tabla-over-spoken-word style.'
A method exemplified by the stunning 'Hana' (Japanese for 'flower') which has picked up an enviable cult following (including John Peel). A bolt from the blue of intense, hallucinogenic sounds, it's one of those tracks you hear once and will never forget. Listen more closely and let its tender beauty reveal itself. As Asa-Chang says, 'The technique of layering tabla over voice, we found, could really accent emotions. So we actually think of 'Hana' as a love ballad.'
Jun Ray Song Chang compiles all of Asa-Chang's Japanese releases up to 2002.
This album was reissued on limited edition black and white vinyl as part of Leaf 20, celebrating 20 years of The Leaf Label.
TRACKS
1. Hana
2. Preach
3. Kobana
4. Nigatsu
5. Goo-Gung-Gung
6. Kutsu #2
7. Jippun
8. Kokoni Sachiari
9. Tabla Bol (Catastrophe)
10. Radio No Youni (Comme A La Radio)
11. Kutsu
REVIEWS
BBC
The Milkfactory