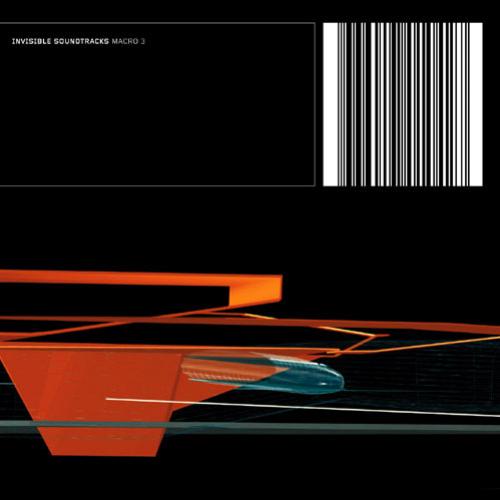 Invisible Soundtracks: Macro 3
by
Various Artists
Formats:
CD (REEL 4CD)
Release Date:
17 July 2000
Over two years since the release of the last installment comes the third CD volume in Leaf's renowned 'Invisible Soundtracks' series. These days every electronic label worth its salt has released an 'imaginary' film soundtrack, though when the series began back in 1995, inspired by the work of musicians such as Brian Eno and Barry Adamson, Leaf was moving in relatively uncharted territory.
Returning with what is without doubt the best in the series to date, Invisible Soundtracks: Macro 3 brings together some of the most talented new producers from around the world. Linked by a common conceptual theme that draws individual pieces together, it is a satisfying, though musically diverse, whole.
All tracks are exclusive and specially commissioned for the project; as ever, the brief was to produce an evocative piece of music for an film that doesn't exist. The results are always fascinating, often startling, and demand close listening attention. The album includes the four tracks on the current limited edition 12", plus a further 12 tracks not to be found anywhere else.
Leaf's global instincts have harvested work from every corner of the world, with cuts from Japan, the USA, Finland, Canada, Germany, Austria and the UK.
CARIBOU (formally Manitoba)
'Anna And Nina' is Dan Snaith's first ever release, an epic and ambitious track that falls somewhere between the adventurous forays of Kieran Hebden's Four Tet project and the lush harmonies of Zero 7. Snaith is a young jazz pianist from Toronto by the name of Dan Snaith, now signed to The Leaf Label.
DRUCKWELLE
From Rosenheim (the same German town that is home to Funkstörung), Klaus Naitana and Vinko Vrabec came to our attention with the first release on their own tiny Molar imprint, the incredible Montreal '76 EP, and we've been wanting to work with them ever since. This slice of fluid deep house more than fulfils their early promise. "Music for brain and soul," they call it.
NACHT PLANK
'Run With The Haunted' is the work of the prolific Lee Norris, who releases a wide variety of music under the names Norken (deep electronic house music on Beau Monde) and Metamatics (funktronica on Hydrogen Dukebox, Dot, Skam, Clear and his own fledgling Neo Ouija label). Previous Nacht Plank releases have been through the experimental Staalplaat label.
SUSUMU YOKOTA
An exclusive and predictably gorgeous piece from Yokota, whose 'Sakura' album on Leaf is one of the label's best sellers. His Mix EP brings together house remixes of his own previous work for Leaf.
ROB ELLIS
Better known for his work with PJ Harvey, Laika and his own band Spleen, Ellis has been recording what is essentially contemporary classical music for himself for several years. The fruits of these labours are released by The Leaf Label on an album entitled Music For The Home, from which these two pieces are taken.
310
Joseph Dierker and Tim Donovan work on opposite sides of the States (Seattle and New York respectively), relaying tapes of their work across the continent. This lush track was culled from the sessions for THE DIRTY RoPE album on Leaf.
ROTHKO
Triple bass wielding soundscapers Rothko, aka Mark, Crawford and Jon are now signed to London's Lo Recordings. This track is actually one of their earliest recordings.
BEIGE
Cologne resident Oli Braun's debut album, I Don't Either (leaf) is composed of compulsive, playful electronica and skeletal house music - and influenced as much by P-Funk and the clipped R&B of Timbaland as it is by the fractured Cologne sound - this is the real future funk.
FREEFORM
Freeform is one of the better known names here, with releases on Warp, Skam, Sub Rosa, Sprawl, Headphone and more to his name, though Londoner Simon Pyke's recent work has been largely overlooked. This new track is arguably his best ever release, alien funk of incredible dexterity and depth, and quite unlike anything we've ever heard before. He recently returned on a three month world tour, gathering sounds for a new Sub Rosa travel album.
KEIRON PHELAN & DAVID SHEPPARD
Phelan and Sheppard really worked the soundtrack vibe with this track: in fact they recently completed a soundtrack to a 'real' short film. Their debut EP on Rocket Girl garnered widespread acclaim when it was released earlier this year, and the follow-up is released in September. David Sheppard is also a member of State River Widening, Ellis Island Sound and Wisdom Of Harry, while Keiron Phelan is currently recording a solo avant-jazz album. The pair also record as And (with Pete Astor).
OP:L BASTARDS
TA Kaukolampi, Vilunki 3000 and Tuomo Puranen hail from Helsinki, Finland. Since their debut EP in 1998 on Bootsound America/Säkhö, their unique electro-rock-disco-dub-funk project has gained respect within the global underground. London's Rex Records released their Spraybeat 10", and their Sagittarius EP is legendary.
SORE AND STEAL
Sore And Steal is a collaboration between former Pale Saint Ian Masters (on musical saw) and pedal steel guitarist David Rothon, hence the name. An album of solo saw material by Masters (as I'm Sore) has already been released by Michigan's finest time STEREO label and can also be heard on the forthcoming Tim Buckley tribute album under the guise of Friendly Science Orchestra.
BROADWAY PROJECT
Dan Berridge records as Broadway Project for London's Memphis Industries label. 'Roman Bones' is a much darker affair than most of his previous work, but we've heard some of his new material, and this is the direction he's headed...
BASS COMMUNION
Bass Communion is one of the many projects of musician and producer Steven Wilson (others include rock band Porcupine Tree, avant rock ensemble The IEM and experimental songscapers No-Man). 'Quantico' is an exclusive track recorded during the sessions for BC's last album. As with most Bass Communion tracks the music is generated entirely from non-synthetic sound sources, in this case the principal element is the saxophone performance of acclaimed UK jazz musician Theo Travis.
B. FLEISCHMANN
Bernhard Fleischmann is an unassuming chap from Vienna, whose beautiful 1999 release Pop Loops For Breakfast (Morr Music / Charhizma) exhibited a remarkable ear for melody - a midget gem of a record that has sold in significant quantities on word of mouth alone.
OSKAR
Based in the City of London, Oskar is a collaboration between hip-hopper & general left-fielder Jonny Dawe & post-rocker, soundtrack & theatre composer Nick Powell. Developed through live performance, Air Conditioning is their first ever release. Juxtaposing electronica & guitars with found sound, it's a stunning way to close the album.
TRACKS
1. Caribou - Anna And Nina
2. Druckwelle - Unteracherting
3. Nacht Plank - Run With The Haunted
4. Susumu Yokota - Fancy Flavour
5. Rob Ellis - Two Movements From 'Symphonies For Wind Up Instruments'
6. 310 - St Mesa Substation
7. Rothko - Suddenly Becomes Light
8. Beige - Neckermann Dub
8. Freeform - Spandoe
9. Keiron Phelan & David Sheppard - Theme From Cardinal Menthol
10. Op:l Bastards - Telephone
11. Sore And Stea - Staying Home, April 73
12. Broadway Project - Roman Bones
13. Bass Communion - Quantico
14. B. Fleischmann - The Rise And Fall Of A Drinker
15. Oskar - Air Conditioning