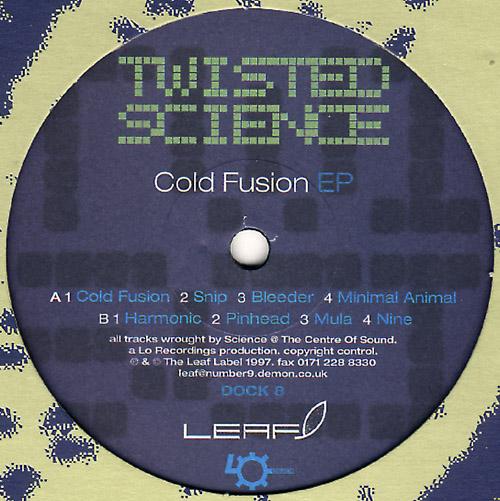 Cold Fusion EP
by
Twisted Science
Formats:
12" EP (DOCK 8)
Release Date:
1 April 1997
Twisted Science launch this coruscating storm of dub, breaks and noise into an unsuspecting world. Twisted Science is the name of Jon Tye's latest solo project, following on form his work with MLO, 2 Player and on his own Lo Recordings imprint.
The Cold Fusion EP includes 8 tracks (plus a secret bonus track, through the magic of locked groove technology...) in under 24 minutes. This is electronica taken to the extremes: freaked hiphop breaks, pure avant noise and chilled dementia, with a warped sense of humour that makes for queasy listening. Is Cold Fusion for real, or is Tye just fucking with your head? Whatever, it's an exhilarating ride. And it's getting costly in speaker cones for Tye's studio...
This is the follow up to the awesome Freedom Of Noise double-pack (DOCK 5), and precedes the debut Twisted Science album, a co-release between Lo Recordings and The Leaf Label.
TRACKS
A1. Cold Fusion
A2. Snip
A3. Bleeder
A4. Minimal Animal
B1. Harmonic
B2. Pinhead
B3. Mule
B4. Nine