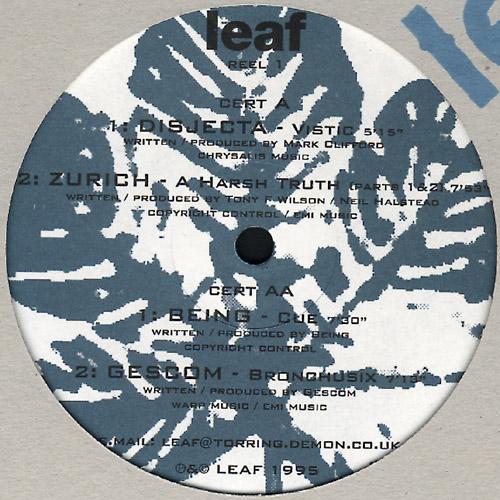 Invisible Soundtracks Volume I
by
Various Artists
Formats:
Limited Edition 12" EP (deleted) (REEL 1)
Release Date:
10 July 1995
The first volume of the Invisible Soundtracks series on The Leaf Label. Gathering strands of atmospheric and visual musics (both electronic an otherwise) and continuing Leaf's commitment to new as well a established artists, each installment will features different acts appropriating their style for the theme across two sides of vinyl, with pressings limited to 1,000. All tracks were exclusively recorded for the project.
Volume I features tracks from Mark Clifford (of Seefeel) and Autechre, as well as newcomers Zurich and Being.
DISJECTA - 'Vistic'
Alias Mark Clifford, this is the first solo release from Seefeel's organisateur. More solo work is forthcoming on Warp.
ZURICH - 'A Harsh Truth (Parts 1 and 2)'
A collaboration between Neil Halstead (formerly of Slowdive) and London scenester Tony 'Spykid' Wilson.
BEING - 'Cue'
From Edinburgh, this is BEING's first UK release. Other activity includes recordings for Andy Weatherall's Emissions Lo Fi imprint.
GESCOM - 'Bronchusix'
...aka Autechre, GESCOM have released two wildly different EP's on their own label, Skam. Their work as Autechre needs no introduction.
TRACKS
A1. Disjecta - Vistic
A2. Zurich - A Harsh Truth (Parts I & II)
AA1. Being - Cue
AA2. Gescom - Bronchusix