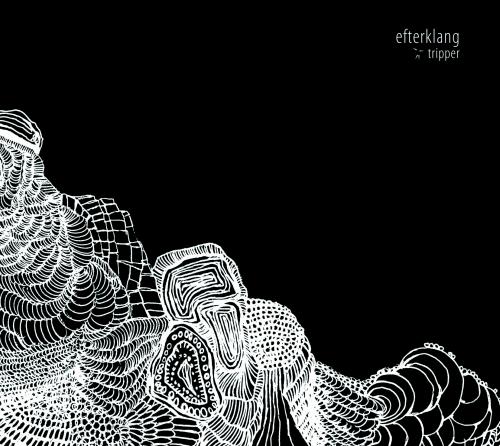 Tripper
by
Efterklang
Formats:
CD (BAY 40CD) Limited Edition Double Vinyl LP (deleted) (BAY 40V) Digital (BAY 40E)
Release Date:
25 October 2004
Copenhagen ten-piece Efterklang reach far beyond the expectations of a debut with this, their ambitious first album for The Leaf Label. Tripper whispers like thunder, combining transcendent melodies with glacial strings and piano, febrile electronics, hushed male-female vocals and a Greenlandic choir. A year in the making, the album is intense and dramatic; intimate yet coolly detached.
Efterklang means 'reverberation' (literally, 'after noise'), but is loosely translated as 'remembrance', evoking the sense of yearning at the heart of their work. Tripper breathes with sensations and subtleties and emotional depth, bringing to mind the music of Múm, Rachel's and My Bloody Valentine.
Formed in early 2001 by Mads Brauer, Casper Clausen and Rasmus Stolberg, the core members soon augmented their line-up with Rune Mølgaard Fonseca's piano and Thomas Kirirath Husmer's percussion work. This line-up recorded their debut EP (and sole release to date), Springer, on their own Rumraket label. To accompany the music, Efterklang recruited Karim Ghahwagi, an accomplished film-maker whose video collages are integral to the band's breathtaking live show (see below). The current membership is completed by Kristina Schjelde (trumpet), together with Hildur Ársælsdóttir and Edda Rún Ólafsdóttir from Iceland's Amina string quartet, known for their extraordinary work with Sigur Rós.
You can view the video clip for Efterklang's 'Swarming' at the links below. The film stars members of The Slagelse Garden. The film was put together by the band and their friends with Karim Ghahwagi as the man in charge - is there no end to their talents?
You can view two of the films used in the band's live show: