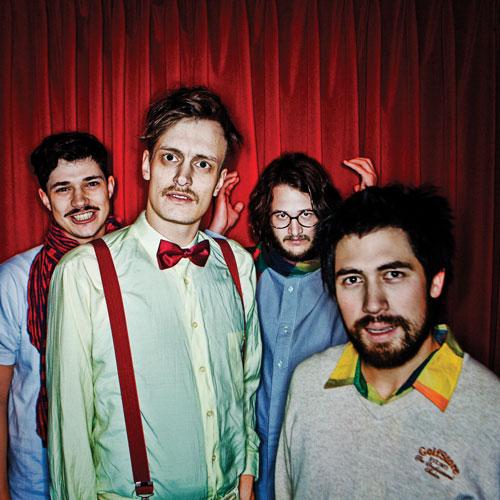 View more images of Efterklang
BIOGRAPHY
Mads Brauer (Copenhagen, Denmark)
Casper Clausen (Copenhagen, Denmark)
Thomas Husmer (Copenhagen, Denmark)
Rasmus Stolberg (Copenhagen, Denmark)
Efterklang make music for the inspired. But don't feel left out, for Efterklang inspire all. Otherworldly pop songs, both magnificently ambitious and engagingly intimate. Breathtaking panoramas of sound with few clear antecedents. This is music with no boundaries. Childhood friends Casper Clausen, Mads Brauer and Rasmus Stolberg grew up on the small Danish island of Als, close to the German border. Fuelled by youthful ambition, the trio moved to Copenhagen where they were joined by Rune Mølgaard and Thomas Husmer, forming Efterklang in December 2000.
Early on, the band instituted a self-sufficient working method that they still apply to everything they do: writing, recording, producing and organizing every element of their music and performance from their Copenhagen bunker.
In 2004 Efterklang signed to The Leaf Label, and their first album Tripper (2004) still stands as the fastest selling debut album in the label's 15-year history. Their second full-length album, Parades (2007), pushed things to another level. The recordings involved more than 30 guest musicians, including a string quartet, a brass quintet and three separate choirs. The video for the album's lead single 'Mirador' has now racked up over a million views on Youtube.
Parades received generous critical acclaim in Denmark and abroad. According to Mojo and Drowned in Sound the album was among the 25 best records released in 2007, while Clash magazine acclaimed it as one of the Top 40 albums in their five-year history. In their native Denmark, Efterklang have been awarded five important music prizes (three Steppeulven in 2007 and two Danish Music Awards in 2008) and topped several album of the year lists.
Efterklang are well-known for their stunning live shows. Following the release of Parades the band took their eight-piece live outfit on the road for 15 months, playing more than 130 concerts across North America, Asia and Europe, and established them as one of the most fascinating and uplifting live acts in the world.
Together with The Danish National Chamber Orchestra they performed the newly orchestrated Parades from start to finish at the brand new Koncerthuset in Copenhagen in September 2008. This special show was recorded for posterity and released in October 2009 as Performing Parades.
Efterklang have subsequently released two albums on 4AD, Magic Chairs (2010) and Piramida (2012).
[last updated February 2013]
ALBUMS
EPS
SINGLES