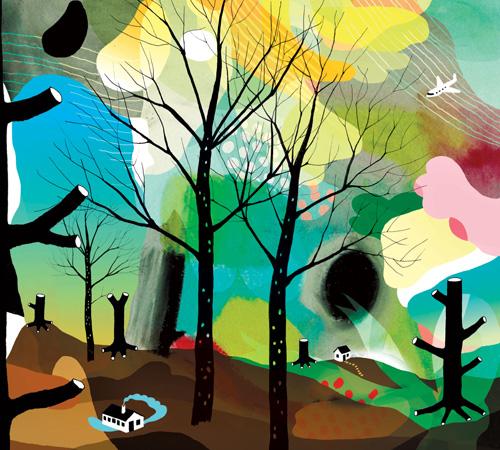 Under Giant Trees
by
Efterklang
Formats:
Limited Ediiton Numbered CD EP (4500 copies) (DOCK 46CD) Limited Edition Numbered 12" EP (1200 copies) (DOCK 46) Digital (DOCK 46E)
Release Date:
2 April 2007
Copenhagen's Efterklang make a welcome return with a magical re-introduction to their sound - the release of Under Giant Trees, a limited edition five-track mini-album in deluxe packaging.
Recorded in the band's own studio, the evolution of Under Giant Trees was somewhat unconventional. The five pieces developed as a way for the band to add variety to their sets while touring their debut album Tripper. Unexpectedly, the new songs emerged as firm favourites for both band and audience.
Returning to Copenhagen at the close of 2005, Efterklang's five core members set to work recording the foundations of these new songs, with a view to this stand-alone release. Extra vocals, brass and strings were added, with Edda and Hildur (from Icelandic quartet amiina) recording further violin parts. Using musicians who had performed as part of the touring unit, the idea was to capture the songs as they had been played live, retaining the free spirit of their origin. These were uncharted waters for Efterklang, who usually create songs in the studio as they record.
The results are mesmerising – at once vibrant, otherworldly, poignant and panoramic. Opener 'Falling Horses' was the first track on Under Giant Trees to be written, evolving into one of the most grandiose, evocative songs Efterklang have yet created. 'Himmelbjerget', translated as 'sky mountain' in Danish, refers to innocent memories of a gigantic, fantastical Danish mountain which they later discovered was just 147 metres tall. 'Hands Playing Butterfly' is perhaps the simplest song they're ever written – stripped to the bare elements of Efterklang's signature sound, yet no less affecting for it, it is a beautiful, tender, tranquil piece of music. Like some ancient Danish drinking song, 'Towards The Bare Hill' is restless and energetic, while 'Jojo' originates from a particular fascination with harps and koras, and is a fittingly dramatic end to the disc.
The title Under Giant Trees refers to songs that are seen by the band as "trees we have planted, watered, nursed". Now these vital, blossoming trees – an amalgamation of a thousand tracks, ideas, attempts and re-attempts, processes, drama and history - stand for themselves as the band (and the listener) lay beneath, watching them mature for a fruitful life of their own.
Childhood friends Casper Clausen, Mads Brauer and Rasmus Stolberg grew up on a small Danish island, founding a lasting bond through music. Fuelled by youthful ambition, at 18 they moved to Copenhagen where they were joined by Rune Mølgaard and Thomas Husmer. There they formed Efterklang and went to ground to learn how to write and perform together, seeking unique and innovative approaches to making music. Early on, they established a self sufficient, all-encompassing modus operandi that's still in effect: writing, recording, producing and organizing every element of their music and performance from their Copenhagen bunker.
2003 saw their very first live show and the release of their debut recordings – a well received EP entitled Springer on their own Rumraket label. In 2004 they signed with The Leaf Label, and released their first full-length, Tripper, that October. The album featured 33 guest musicians and incorporated violins, brass, a Greenlandic choir and a fully integrated video collage score by Karim Ghahwagi, a filmmaker who hasworked with Efterklang since 2003. Tripper became the fastest selling debut in Leaf's ten-year history.
There remains a significant visual subtext to Efterklang, floating between the lines and bars of their music. Their songs conjure profoundly cinematic images: childhood memories, fantastical landscapes and tentative passions. Filmmakers are as much an influence on the band as other musicians (they list the Brothers Quay, Werner Herzog and Ingmar Bergman among their favourites). Casper and Mads moved into the world of real film soundtracks in 2006, and have been nominated for the Danish equivalent of the Oscars for their score to the animated feature Princess.
Under Giant Trees will be released worldwide as a strictly limited edition of 4,500 embossed, individually numbered CDs in deluxe card packaging with four 'puzzle cards', and a limited edition of 1,200 individually numbered copies on white vinyl.
TRACKS
1. Falling Horses
2. Himmelbjerget
3. Hands Playing Butterfly
4. Towards The Bare Hill
5. Jojo
REVIEWS
BBC
OTHER
Bandcamp
Jojo (live) video