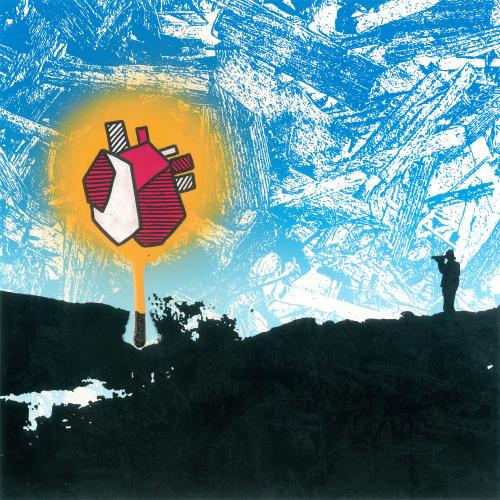 In Each And Every One
by
Polar Bear
Formats:
CD (BAY 90CD) Limited edition double vinyl LP + CD (BAY 90V) Digital (BAY 90E)
Release Date:
24 March 2014
"For me, this album is about heart, and I hope that when people listen to it, it makes them feel theirs," says Sebastian Rochford of his group's expansive, exhilarating new album. "I want people to let go, I want it to be an experience."
Over the last 10 years, Polar Bear have marked themselves out as one of the most exciting and progressive bands of their generation. Since receiving a Mercury Music Prize nomination for Held On The Tips Of Fingers in 2005, they have continued to innovate and transcend genre, connecting with jazz, rock, hip-hop, electronic and mainstream audiences alike.
In Each And Every One is Polar Bear's long-awaited 5th album, the group's first since 2010's hugely acclaimed Peepers. It's certainly their boldest and most dynamic work to date. A remarkable song cycle, offering an expansive arc across deep emotional terrain, it evokes a range of atmospheres: post-industrial scrub, grimy metropolitan house parties, snowy wastelands, dark mountain gatherings.
Perhaps the defining feature of In Each And Every One is space. The band seems to occupy a fixed point in a vast three-dimensional setting: an electronic abyss. At times the players evaporate in a swirling mass of digital distortion, before reappearing through the mist. Saxophonists Pete Wareham and Mark Lockheart together posses a broad emotional vocabulary, yet here they appear translucent, elusive. Bassist Tom Herbert is irresistible when he plays inside the groove, but does so only occasionally, giving these moments rare power.
"The way we made this album is almost the opposite of the last record. I wanted for there to be a strong rhythmic drive that propels it, and then sometimes for there to be the feeling of pure space. I wanted to change the roles this time too, and give everyone the most freedom ever. We hardly listened to anything in the studio as I didn't want us to analyse what we were playing, just use our instincts."
Rumour has it that this time Polar Bear drummer and bandleader Rochford asked electronics wizard Leafcutter John to provide the beats, while Seb himself played percussion around the edges, which may point to the source of the album's power. There aren't many drummer-bandleaders out there per se, even fewer willing to occupy the shadows. But there's no mistaking Rochford's compositional influence, nor his brooding and irrepressibly soulful playing.
The prodigious Rochford has hardly been under-employed in the period since the last album, playing with an unbelievable array of musicians, both on their own projects and in collaboration on his Days And Nights At The Takeaway series in 2012. Brian Eno, Spoek Mathambo, Yoko Ono, Jehst, Shabaka Hutchings, John Paul Jones, Matana Roberts, Paul McCartney, Beck, Patti Smith, Mikill Pane, Carl Barat and Damon Albarn's Africa Express project represent only the tip of the iceberg.
Some experiences in particular informed the direction these freewheeling, exploratory new recordings have taken. "Playing with Rokia Traoré so much [Seb worked on her recent album in Mali and Bristol with producer John Parish] definitely changed my perspective on music. Playing on Paolo Nutini's album (produced by Leo Abrahams), and learning from [producer] Tchad Blake how he made mic filters with pipes inspired me. Also Cameron Craig, who engineered Brigitte Fontaine's new album [with producer Ivor Guest], made me think about experimenting with production as we were recording it, using the studio as a tool rather than plug-ins after the event. And Leafcutter John is always telling me just to trust my ears, which has given me the confidence to do what I feel."
For the first time, Seb produced and mixed the album himself, allowing him to express exactly the dramatic and joyful sounds he hears in his head. "The experience of making music with these people and doing things like The Takeaway has made it clearer to me in the last year how I can be myself as a producer and trust that there are no rules, just different perspectives."
In Each And Every One is not just another Polar Bear record. It's a new direction for one of the most thrilling and influential bands of the last decade.
In Each And Every One was shortlisted for the 2014 Mercury Music Prize.