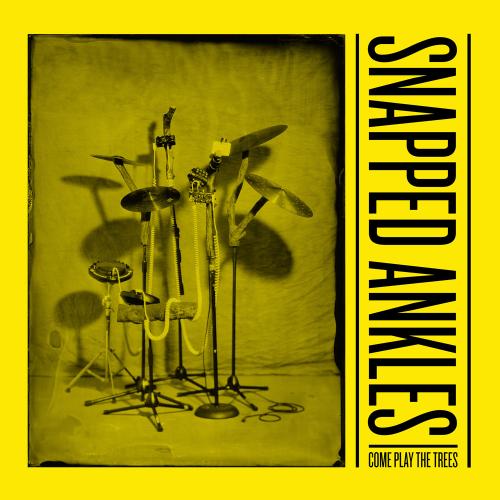 Come Play The Trees
by
Snapped Ankles
Formats:
CD (BAY 103CD) Limited edition vinyl LP + CD (BAY 103V) Digital (BAY 103E) Limited edition yellow vinyl LP + CD (BAY 103VX)
Release Date:
29 September 2017
"Masters, there is three carters, three shepherds, three neat-herds, three swine-herds, that have made themselves all men of hair, they call themselves Snapped Ankles, and they have a dance which the wenches say is a gallimaufry of gambols..."
William Shakespeare on Snapped Ankles
They came from the trees.
When the city starts to encroach on the forest, nature will find a way to reclaim what is rightfully hers. Snapped Ankles come as messengers. On debut album Come Play The Trees they hold a mirror up to us. They're here to plant the seed. They're here to have a good time, but never at the expense of their natural habitat.
Snapped Ankles have emerged from the woods clutching an album that feels simultaneously modern and ancient. This is what dance music will sounds like when computers finally fail us. Log synths, bass guitar and sticks on taut animal skin coalesce to form fearsome primal rhythms. Fuzz guitars rubbing up against dirty rolling arpeggiated synthesisers to ignite wild white noise fires. Forest folklore passed down through generations, has made its way onto the tracks. Subjects veer from dystopian futures to railing against Swedish flat-pack furniture, from the films of Jean-Luc Godard and Andrei Tarkovsky to throwaway Youtube comments. High art and cultural detritus are all fair game - a brave new world indeed.
Since relocating to bohemian East London, the woodwose have integrated seamlessly into the creative firmament. Setting up camp at the Total Refreshment Centre and graduating through warehouse and squat party shows, on to performance art collaborations, shows in barber shops and forest clearings, festivals and every so often a gig in conventional venue surrounds. They have built a community around their Topophobia performance nights and have turned heads with their Drum Cinema performances. At home in all these environments, Come Play The Trees is a record to dance to, to lose yourself in; it embraces its experimental roots but crucially demonstrates Snapped Ankles know their way around a tune.
Snapped Ankles' first Leaf single, 'I Want My Minutes Back', found favour at BBC 6 Music with early support from Steve Lamacq, Tom Ravenscroft, Gideon Coe and Vic Galloway, resulting in a Marc Riley session in May. Follow up single 'Jonny Guitar Calling Gosta Berlin' maintains that fuzz laden motorik momentum. The videos for both offer a glimpse of the off-kilter art-house landscape inside the minds of Snapped Ankles and long-time collaborator Sol Haim, and also reveal a certain preoccupation with spaghetti.
Get in touch with nature. Visit the forest. Come Play The Trees.
TRACKS
1. Come Play The Trees
2. Hanging With The Moon
3. I Want My Minutes Back
4. Jonny Guitar Calling Gosta Berlin
5. Let's Revel
6. Tuesday Makes Me Cry
7. The Invisible Real That Hurts
8. True Ecology
9. Come Play The Trees Outro
OTHER
Bandcamp