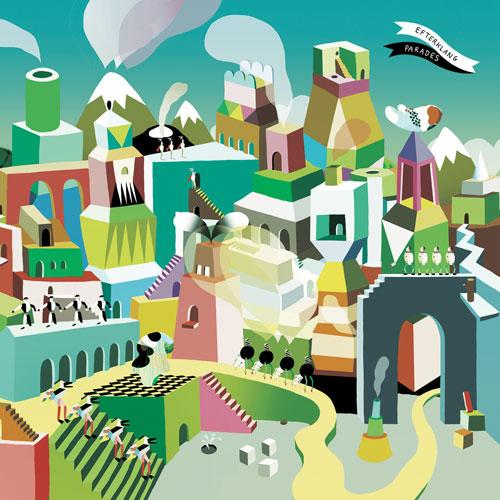 Parades
by
Efterklang
Formats:
CD (BAY 58CD) Limited Edition Gatefold Vinyl LP (BAY 58V) 2015 Leaf 20 Edition Black Vinyl LP + CD (BAY 58V) 2015 Leaf 20 Edition White Vinyl LP + CD (BAY 58V) Digital (BAY 58E)
Release Date:
22 October 2007
Parades is the second album by Denmark's Efterklang, the follow up to their underground hit of 2004, Tripper. Comprising 11 majestic, otherworldly pop songs, Parades manages to be both magnificently ambitious and engagingly intimate; a breathtaking panorama of sound with few clear antecedents. Music with no boundaries. In a parallel universe, songs like 'Mirador' and 'Caravan' would be number one forever…
Though the music that became Parades was recorded concurrently with the critically acclaimed (and already collectible) Under Giant Trees mini-album that preceded it, the latter was essentially a summation of songs the band had pieced together on tour in 2005. Parades is cut from a different cloth: this is all new material spun from raw ingredients, carefully stitched and lovingly embroidered with fine detail. If you let yourself be enveloped, this living tapestry could take years to unpick.
Childhood friends Casper Clausen, Mads Brauer and Rasmus Stolberg grew up on the small Danish island of Als, close to the German border. Fuelled by youthful ambition, the trio moved to Copenhagen where they were joined by Rune Mølgaard and Thomas Husmer, forming Efterklang in December 2000. Early on, the band instituted a self-sufficient working method that they still apply to everything they do: writing, recording, producing and organizing every element of their music and performance from their Copenhagen bunker.
With the release of Tripper in 2004, Efterklang established themselves as a band apart. The record mixed multilayered vocals, electronic rhythms and string arrangements into a series of emotionally charged orchestral movements containing grand romantic flourishes. Tripper stands as the fastest selling debut album in The Leaf Label's history, and Efterklang went on to become one of Denmark's best loved groups (Under Giant Trees debuted at number one on their home country's singles chart).
Work on Parades began in late 2005 with a series of simple song sketches. Then, they began to develop. The recording itself took 18 intense months and involved more than 30 guest musicians, including a string quartet, a brass quintet and three separate choirs. The band describes their writing and recording method as "one long process of sculpturing; adding, stretching or subtracting the pieces of each song, finding the right melodies to guide the different pieces and instrumentation of it all." The album title refers to this approach; the notion being that each song is an assemblage of separate celebratory events, brought together as a accomplished whole. As the band describes it, "We like the idea that these songs are a huge parade moving past the listener – each section creating a new experience, an individual room of a house. Yet all the elements fit together, so you get a sense of the entire structure as the elements shift and coalesce."
Unlike previous recordings, the band relied less on digital techniques and went for a palatial sound by recording in large rooms. A boys' choir and a church organ were recorded in a church, while other instruments were recorded in their studio bathroom and hallway; others in an echo chamber. Darren Allison (who worked on My Bloody Valentine's Loveless, and Ladies and Gentlemen… by Spiritualized – records that surely need no introduction) mixed the album on analogue equipment with Efterklang's Mads Brauer, distinguishing the minutiae of sound while keeping the bigger picture of each song firmly in focus.
Parades features similarly lavish artwork to Under Giant Trees, by Danish artists Hvass&Hannibal and UFEX. Like a day-glo Hieronymus Bosch, the design carries through the musical idea of minuscule detail on an epic scale.
Like a gigantic piece of musical theatre, Parades is a remarkable achievement, dense and diverse, and clearly a lot of fun to put together. You've never heard anything like it.
Re-released on limited edition black and white vinyl as part of Leaf 20, celebrating 20 years of The Leaf Label. LP includes original CD album in miniature Leaf 20 design card wallet, Leaf catalogue inner sleeves
and spot varnished Leaf 20 logo on front cover.
Reviews:
"Every so often an album comes along that's so original it's difficult to accurately liken it to anything else – even Efterklang's last album, Tripper, is left behind by Parades" 4/5, Mike Barnes, Mojo Nov 2007
"More organic than their 2004 debut, Parades is just as richly rewarding" 4/5, Stephen Troussé, Uncut, Nov 2007
"An album to blow minds and warm hearts" Graham Lynch, Rock-a-Rolla, Sep/Oct 2007