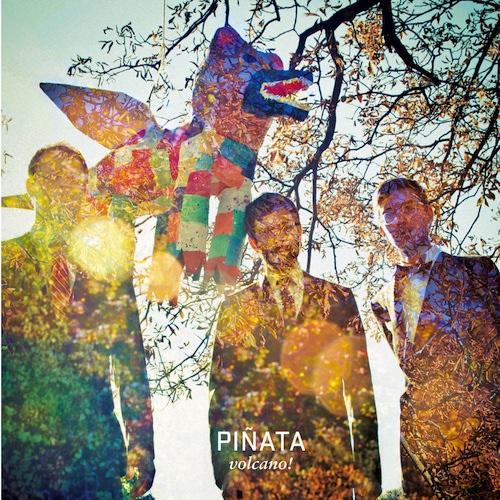 Piñata
by
volcano!
Formats:
CD (BAY 81CD) Limited edition clear vinyl LP with album CD (BAY 81VX) Limited edition black vinyl LP with album CD (BAY 81V) Digital (BAY 81E)
Release Date:
4 June 2012
Almost four years in the making, Chicago trio volcano! have delivered the long-awaited follow-up to 2008's celebrated Paperwork album. Their outstanding third offering, Piñata, is well worth the wait - by any measure it's their best yet.
Piñata is the sound of volcano! past distilled into a most potent formula for the present: unsparingly concise, stickily melodic, lyrically stronger and stranger, darkly humorous, ferociously driven, fabulously inventive. Clocking in at just over 40 minutes, the album has an aggressive energy that's as exciting as it is unpredictable. It's leaner and meaner than its predecessors, with the themes behind the songs drawn from more familiar sources. "They're mainly based on weird fantasies," says frontman Aaron With. "Our goal was to tell stories with strange but universal sentiments."
The fantasies that form the foundations for certain songs are hardly commonplace musings on love and life. 'Child Star' imagines its protagonist (re)born with all the skills and experience of a previous life, gaining competitive advantage over a helpless peer group. 'St. Mary Of Nazareth' takes the listener on a tour of a spaceship disguised as Catholic hospital, where the nurses are nuns, and the nuns are aliens. Lead single 'Piñata' is a petty vision of posthumous karmic retribution, while 'Fighter', the album's dramatic centrepiece, is a violent revenge fantasy set to music. But while the songs can be complex conceptually, the incisive compositions ensure they effortlessly get under your skin.
More immediate than anything the trio has crafted before, it makes perfect sense that at the time of writing Piñata, volcano! were indulging themselves on radio hits alongside a steady diet of music from the outer reaches of the spectrum. Meanwhile the band has lost none of the playful, idiosyncratic elements that make them unique. "We kept the weird energy, the melodic tension, and the neurotic rhythm," says With, "but we've made the framework a little more decipherable." Not a second is wasted as volcano! gleefully take a baseball bat to musical convention in the name of great pop.
Aaron With (vocals, guitar), Sam Scranton (drums, percussion) and Mark Cartwright (synths, bass) formed volcano! in 2003, and have stockpiled critical acclaim since the beginning. Their debut album Beautiful Seizure (2005) was awarded 10/10 by Drowned in Sound and was dubbed the "soundtrack to the Bible" by Fader; Paperwork garnered four stars in Mojo and Uncut, and the video for 'Africa Just Wants To Have Fun' has notched up 200,000 views. The two albums have become cult favourites among those fortunate enough to hear them, and the sense of anticipation for Piñata is palpable.
The album tracks are being introduced in the weeks leading up to release with a series of riotously off-the-wall video teasers, which you can find on the band's Youtube channel.