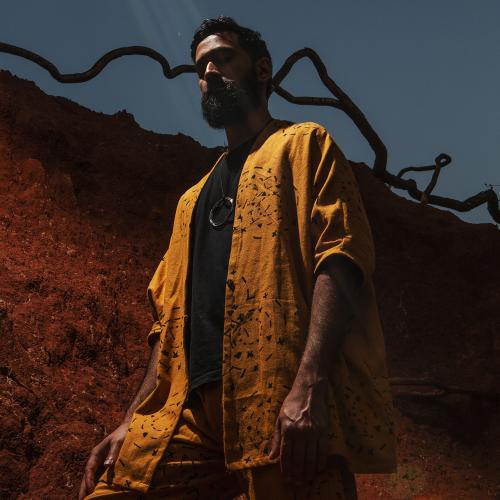 BIOGRAPHY
Born in the US,
Sarathy Korwar
grew up in Ahmedabad and Chennai in India. He began playing tabla aged 10, but was also drawn to the American music that he heard on the radio and leaking through the doorway of his local jazz music shop (Ahmad Jamal and John Coltrane were early discoveries). At 17, Korwar moved to Pune to study Environmental Science, but instead dedicated his time to music, practising tabla under the tutelage of
Rajeev Devasthali
, translating his skills to the western drum kit and playing as a session musician.
On completing these studies, he moved to London where he trained as a classical tabla player under the guidance of
Sanju Sahai
at SOAS (The School of Oriental and African Studies), focusing on the adaptation of Indian classical rhythmic material to non-Indian percussion instruments.
Korwar has since established himself as one of the most original and compelling voices in the UK jazz scene, leading the UPAJ Collective - a loose band of South Asian jazz and Indian classical musicians brought together through a love of collaboration and improvisation who set up a residency at the Jazz Café in London. Korwar has collaborated with the likes of Shabaka Hutchings (The Comet Is Coming), clarinettist Arun Ghosh and producer Hieroglyphic Being, as well as groups Penya and Ill Considered. He has toured with Kamasi Washington, Anoushka Shankar, Yussef Kamaal and Moses Boyd.
Korwar's daring debut album, Day To Day, recorded with the support of the Steve Reid Foundation, was released by Ninja Tune in 2016. The album fused traditional folk music recorded with the Sidi community in India (combining East African, Sufi and Indian influences) with contemporary jazz and electronics.
In November 2018, Gearbox Records released a triple vinyl live album by Sarathy Korwar and UPAJ Collective. My East Is Your West, performed and recorded at a sold-out Church of Sound show, is a brilliant and unique blend of London's new jazz talent with Indian classical instrumentation. A critically-acclaimed take on the cultural appropriation of 'spiritual' Indo-jazz, the three-hour show was recorded following a single 45-minute rehearsal. The resulting album was awarded The Guardian's Contemporary Album of the Month.
Korwar released his second studio album, the politically charged
More Arriving
in July 2019. A leap forward from his previous releases, it incorporated rappers from Mumbai and New Delhi, spoken word and his own Indian classical and jazz performances. It's an honest reflection of Korwar's experience of being Indian in a divided Britain and walked away with the Best Independent Album at the 2020 AIM Awards, up against the likes of Nick Cave and Kim Gordon. It was also awarded MOJO's Jazz Album of the Year and was shortlisted for Gilles Peterson's Worldwide Awards, the Jazz FM Awards and the Songlines Awards.
In 2022, Korwar released two collaborative albums - the eponymous
Flock
with the London based improvisational quintet on Strut, and
Shruti Dances
with
Auntie Flo
on Make Music.
Indo-futurist manifesto KALAK followed in November 2022 - Korwar's third studio album. In rhythmic step with the past and the present, it sets out to describe a route forward. It celebrates a rich South Asian culture of music and literature, which resonates with spirituality and community, while envisaging a better future from those building blocks. Meticulous production comes courtesy of New York electronic musician, DJ and producer Photay, translating these communal rhythms and practices into a timeless and groundbreaking electronic record. It was awarded the prestigious Songlines Award for the Asia & Pacific category and The Guardian placed it at #2 in their Best Global Albums of 2022.
KAL (Real World) was released in April 2023 - a companion piece to Korwar's 2022 album, and a rare glimpse of the spontaneous creative spark, with these live improvisations laying the groundwork for the tracks that would go on to make up KALAK.
ALBUMS
EPS






OFFICIAL SITE
http://www.sarathykorwar.com
NEWS
OTHER
https://sarathykorwar.bandcamp.com
LIVE
Sat 9 Dec 2023
: NMACC, Mumbai, INDIA
Sun 10 Dec 2023
: Cobbler & Crew, Pune, INDIA
Tue 12 Dec 2023
: The Piano Man, Gurgaon, INDIA
Wed 13 Dec 2023
: The Piano Man Jazz Club, Delhi, INDIA
LIVE ARCHIVE
View previous performances