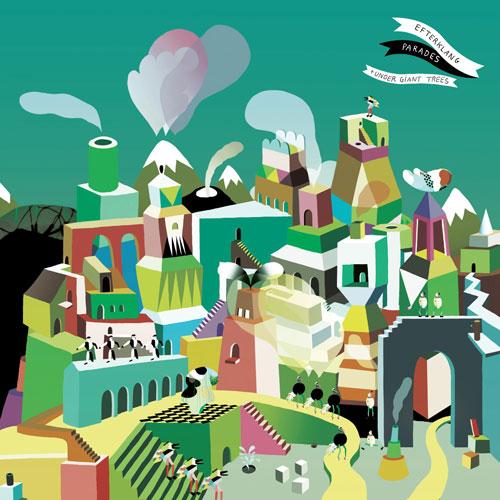 Parades + Under Giant Trees (Special Edition)
by
Efterklang
Formats:
Double CD (BAY 58CDX) Digital (BAY 58EX)
Release Date:
23 August 2010
Double CD reissue of the Under Giant Trees EP (2007), plus the album Parades (2007). Also includes two bonus live tracks. Packaged in a deluxe fold-out CD package with 16-page booklet and sleevenotes written by the band:
""Under Giant Trees and Parades were both originally released in 2007. They are closely related, but also quite distinct. We spent almost two years in the studio creating Parades, a long and complex process as all the songs were written while we were recording. The songs became intricate puzzles where we would lay down a new fragment of melody, rhythm or harmony every day.
"We had written and performed the five songs that became Under Giant Trees during the Tripper tour of 2005, and had recorded the basic tracks on returning to Copenhagen that December. During August 2006 we got totally stuck with the Parades recordings, and to give ourselves some breathing space we decided to complete the Under Giant Trees EP instead - a very constructive sidestep. We picked up where we left off and finished the string parts and vocals, giving the songs their structure. The EP was released on limited edition CD and vinyl in April 2007 and sold out almost immediately.
"We returned to the sessions for Parades with fresh perspective and completed the recordings in April. Mads teamed up with Darren Allison and spent a month mixing the album, a gargantuan task in itself.
"The album was finally released in October 2007, and we began touring again after a two year hiatus. Parades was a complicated album to make and it was only when we started playing the songs live that we began to have a unified understanding of it. But the album is still a mystery for us, and an album we are very proud of."
Casper, Mads, Rasmus & Thomas – Efterklang
Mojo and Drowned in Sound acclaimed Parades as among the 25 best records released in 2007, while Clash magazine acclaimed it as one of the Top 40 albums in their five-year history. Parades' lead single 'Mirador' has now racked up well over one million (1,000,000!) views on Youtube.
NB Initial copies include the 12-panel poster that was included with the original album CDs.
TRACKS
CD1:
1. Polygyne
2. Mirador
3. Him Poe Poe
4. Horseback Tenors
5. Mimeo
6. Frida Found A Friend
7. Maison de Réflexion
8. Blowing Lungs like Bubbles
9 Caravan
10. Illuminant
11. Cutting Ice to Snow
CD2:
1. Falling Horses
2. Himmelbjerget
3. Hands Playing Butterfly
4. Towards The Bare Hill
5. Jojo
6. Mirador (Live)
7. Cutting Ice To Snow (Live)
REVIEWS
BBC Music
OTHER
Bandcamp