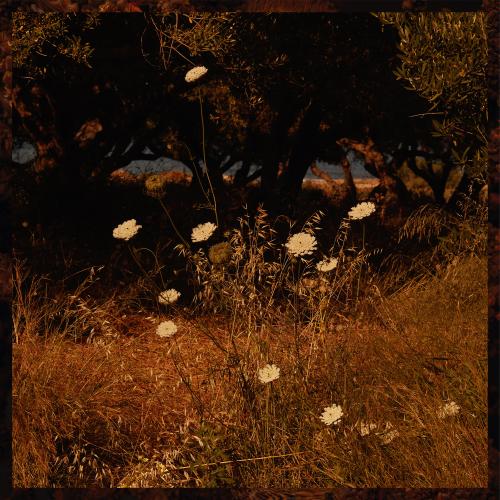 Earth Patterns
by
Szun Waves
Formats:
Black vinyl LP (BAY 119V) Limited edition 'brown smoke' vinyl LP (BAY 119VX) Dinked Edition orange splatter vinyl + photobook (BAY 119VD) CD (BAY 119CD) Digital (BAY 119E)
Release Date:
19 August 2022
The members of Szun Waves may not have been collectively in the same country, let alone room, for over two years, but that hasn't prevented them from realising their third album, Earth Patterns.
The trio – comprised of producer Luke Abbott, saxophonist Jack Wyllie and drummer Laurence Pike – recorded the album sessions together at the tail end of their 2019 European tour, locking themselves away in the studio for three days of improvisation. They emerged with hours of music, some inspired by their live shows, most born fresh in the studio itself, ready to be moulded into the group's third album in five years.
However, with Laurence marooned in Australia, and Luke and Jack grounded in different parts of the UK, it meant an unexpected reassessment of the band's creative remit, and the enforced long gestation period almost inadvertently ended up creating the most fully-formed Szun Waves record to date. Previously the band would pore over their long, uninterrupted live studio sessions and select passages that then became each track - this process formed the basis of each of their first two albums. This time, the long hiatus meant additional input was offered by electronic savant James Holden, as well as producer/engineer David Pye, as Szun Waves had more time to reflect on the recordings.
The break also allowed them to identify the perfect complementary collaborator - visual artist Dom Harwood, who worked on Max Cooper's acclaimed live AV performances - to create the sort of accompanying visual landscapes on which he's built his reputation. His video for lead track 'New Universe' is a brilliant distillation of what Szun Waves are - a marrying of the organic and the strange: spectral and widescreen.
Where second album, New Hymn To Freedom, had its face tilted up to the heavens, Earth Patterns is a more grounded record, and in places, a more claustrophobic one.
"I think the record we've ended up with is an emotional outpouring," Abbott says. "There's a fluidity to it that feels like we tapped into something quite raw. The last record felt like drifting in space but I see this new record as a journey from the outer reaches of the universe down onto the earth, like a macrocosm to microcosm arc," he explains.
The work with Dom Harwood includes all aspects of the visual identity of this era of the band - they worked together to create the beautiful artwork that encases the physical recordings too, and it embodies the rich, detailed approach of Earth Patterns as a whole. The band's third record sees them hitting the peak of their powers musically and creatively.
Aside from Szun Waves, the trio's members are influential musicians in their own right. Abbott has remixed Jon Hopkins, Todd Terje and Nils Frahm and released Translate, his first solo album in six years, on James Holden's Border Community label. Wyllie, meanwhile, has been busy with new releases from Portico Quartet, Forgiveness and his own Paradise Cinema project. At the same time, Pike put out his third solo album, Prophecy, in July 2020, joined art-rock band Liars, and reunited Triosk, the group that originally made his name. Szun Waves also released an EP, Three – comprised of previously unreleased tracks from the New Hymn sessions – in the summer of 2020.
Earth Patterns is released digitally and on CD, as well as three separate vinyl variants. The black vinyl and (indies only) brown smoke vinyl editions include a spot varnished cover, printed inner sleeves and a download code. The Dinked Edition is pressed on orange vinyl with black splatter, and limited to 500 copies, adding a screenprinted PVC outer sleeve and a 16-page photobook containing images by Dom Harwood, numbered in the Fibonacci sequence.
TRACKS
1. Exploding Upwards
2. New Universe
3. Garden
4. In The Moon House
5. Be A Pattern For The World
6. Willow Leaf Pear
7. Atomkerne