Mariam Wallentin teams up with Mikael Karlsson
Published 8 March 2012 by RM
Last Thursday, Wildbirds & Peacedrums' Mariam Wallentin joined fellow Swede composer Mikael Karlsson to perform at The Merkin Concert Hall as part of the Ecstatic Music Festival in New York.
The concert was centred around a new piece composed by both Wallentin and Karlsson entitled 'The Spirit & The Cloud' which was performed alongside the American Contemporary Music Ensemble.
The whole concert is available to stream here.
@wbpd 

facebook.com/wildbirdsandpeacedrums 

wildbirdsandpeacedrums.com

theleaflabel.com/WildbirdsandPeacedrums
---
Matthew Bourne in China
Published 8 March 2012 by RM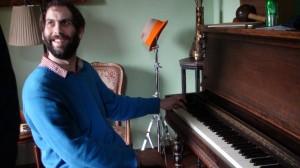 Matthew Bourne recently flew over to Xiamen, China to start a 6 week residency programme in association with British Council and PRS For Music Foundation.
Throughout Matt's residency he'll have the opportunity to meet and collaborate with local musicians from the surrounding area, including Gulangyu Island (AKA 'Piano Island').
Before he left, Matt purchased a video camera so he could capture a little of this incredible experience for us at home. You can watch (and read) all about Matt's trip over on his blog.
@MortButane

facebook.com/mortbutane 

matthewbourne.com

theleaflabel.com/MatthewBourne
---
Office playlist March 2012
Published 28 March 2012 by RM
We're not sure why, but 2012 is turning out to be the year of soul and disco chez Leaf. Not exclusively you understand, but there's a lot of it about. See what we mean when you tune into this month's Spotify playlist.
Emeralds - Does It Look Like I'm Here? (Daphni Mixes)
Jessie Gould - Out Of Work
The Pointer Sisters - Send Him Back
DJ Diamond Kuts feat. Travis Porter & RaMatthews - Freak
Dinosaur Jr. - Start Choppin'
Stevie Wonder - Do I Do
Azealia Banks - 212
Bill Withers - Who Is He (And What Is He To You)?
Wilson Pickett - Land Of 1000 Dances
Pharoah Sanders - Jewels Of Thought
Carter Tutti Void - Transverse
Lou Reed - Goodnight Ladies
Ólafur Arnalds & Nils Frahm - Stare
Chic - Everybody Dance
Darrell Banks - I'm Knocking At Your Door, Please Let Me In
Parenthetical Girls - Privilege Pts I-IV
DFA - Dream The End mixtape
The Wolfgang Press - Kansas
The Orb - The Orb's Adventures Beyond The Ultraworld
Julian Priester & Pepo Mtoto - Love, Love
Willie Mason - Restless Fugitive
David Bowie - Red Sails
Sinkane - Runnin
Harvey - Resident Advisor podcast
Ella Fitzgerald - Ella in Hollywood
Batida - Batida
M.I.A. - /\/\ /\ Y /\
DJ Food - The Search Engine
Lovage - Music To Make Love To Your Old Lady By
Gentleman's Dub Club - Open Your Eyes EP
Mike Patton - A Perfect Place OST
Sister Sledge - Lost In Music
---
RECENT POSTS
ARCHIVED POSTS
2015 September
2015 July
2015 March
2015 January
2014 October
2014 August
2014 May
2014 April
2014 March
2014 February
2013 December
2013 July
2013 June
2013 May
2013 April
2013 March
2013 February
2012 December
2012 November
2012 October
2012 September
2012 August
2012 May
2012 April
2012 March
2012 February
2012 January
2011 December
2011 November
2011 October
2011 September
2011 June
2011 May
2011 April
2011 March
2011 February
2011 January
2010 December
2010 November
2010 October
2010 September
2010 August
2010 July
2010 June
2010 May
2010 April
2010 March
2010 February
2010 January
2009 December
2009 November
2009 September
2009 August
2009 July
2009 June
2009 May
2009 April
2009 March
2009 February
2009 January
2008 October
2008 April
RSS
Subscribe to the blog as an RSS Feed.