Office Playlist April 2010
Published 7 May 2010 by TM
Been a little while since we've had time to put one of these together. This is what we've been listening to in the last month or so. Find some of it on Spotify here: Leaf Office Playlist April 2010
LCD Soundsystem - This Is Happening
Caribou - Swim
The Fall - Your Future, Our Clutter
The Crystals - (Let's Dance) The Screw - Part 1
Dirty Sound System - I Remember The First Time I Heard Your Voice
Miles Davis Quintet - Live in Montreux 1969
Bear In Heaven - Lovesick Teenagers (Oh No Ono mix)
The Tiny - Gravity & Grace
David Byrne - Big Business
Family Fodder - Film Music
various - Nigeria Afrobeat Special: The New Explosive Sound In 1970's Nigeria
Actress - Splazsh
various - Deutsche Elektronische Musik: Experimental German Rock And Electronic Musik 1972-83
Elephant9 - Walk The Nile
Clipse - Til The Casket Drops
MGMT - Congratulations
DJ Morpheus - Weird But Beautiful mix
Pavement - Crooked Rain Crooked Rain
Four Tet - Plastic People
Little Richard - Here's Little Richard
Dr John - Dr John's Gumbo
Stereolab - Oscillations From The Anti-Sun
Gene Vincent - Be-Bop-A-Lula
Frank Sinatra, Gene Kelly - On The Town OST
Spacek - Vintage Hi Tech
Kris Kristofferson - Please Don't Tell Me How The Story Ends
Domotic & O.lamm - Egyptology
The Upsetters - Blackboard Jungle Dub
Linda Ronstadt - Different Drum
Ivor Cutler & Linda Hirst - Women Of The World
Erykah Badu - New Amerykah Part Two (Return Of The Ankh)
Mariah Carey feat. ODB - Fantasy
---
Polar Bear in Creative Review
Published 9 May 2010 by TM
Just spotted the Polar Bear album artwork on the Creative Review website, in their quaintly titled 'record sleeves of the month' feature.
Congratulations to Johanna Reubel who designed the artwork (and no, it wasn't my handwriting!)
---
Download Wildbirds & Peacedrums Podcast
Published 13 May 2010 by BWL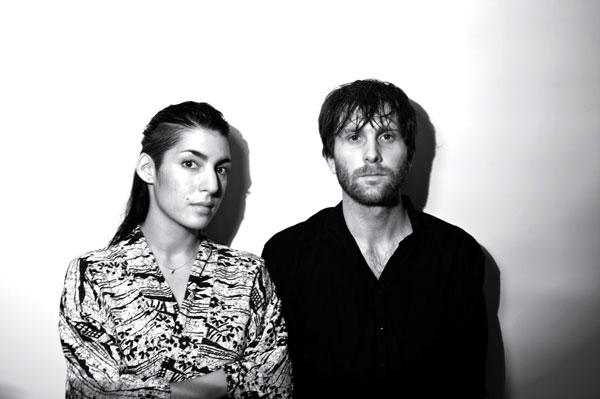 Andreas Werliin of Wildbirds & Peacedrums has recorded a podcast ahead of Saturday's headline show at Bishopsgate Institute. Hear or download it here:
Wildbirds & Peacedrums interview by Barbican Music
---
Wildbirds & Peacedrums with Voices, Bishopsgate Institute 15/05/2010
Published 17 May 2010 by Ben Winbolt-Lewis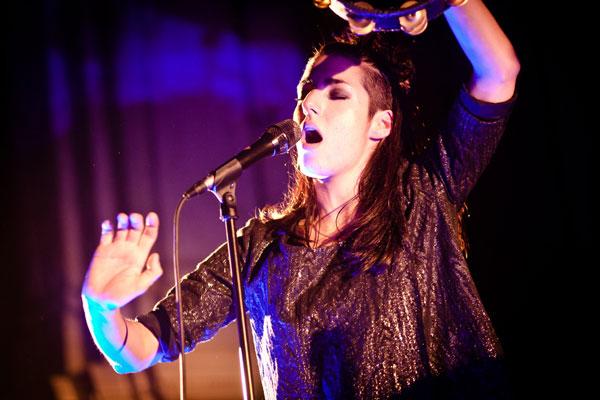 Wildbirds & Peacedrums played their first two shows with a handpicked Swedish choir (billed as 'Voices') last weekend and I was lucky enough to be at both. The first was at the Pavement-curated ATP in Minehead on Friday which was great, but their headline show at London's Bishopsgate Institute was something else...
Having seen Wildbirds & Peacedrums about 20 times since they first appeared on our shores at the intimate Betsey Trotwood in April 2008, you would have thought that I would have had enough of seeing them, especially given my personal tendency to get bored very easily(!). However, considering the band usually just operates as a two piece rhythm machine, with virtually all melody provided solely by Mariam Wallentin's remarkable voice, every show has been very special in its own way. Saturday's was by no means an exception, in fact, it was probably the best show I have seen them play.
Gone, or tempered, was the visceral element I love so much about the band. The duo had a choir to work with, not compete with. However, a new side to the band was starting to shine through.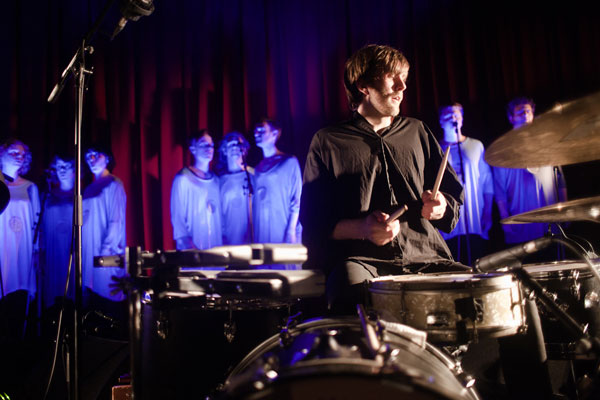 This was helped by the excellent acoustics in the Bishopsgate Institute,which I had not been to before; the natural reverb in the hall really brought out the best in the music. This helped the melody, which the band are not always credited for, shine through.
I should mention the crowd too. It's not often that a standing audience is so respectful and passionate. This was highlighted when a spontaneous burst of singing from the crowd arose when 'My Heart' (from The Snake) was played in the encore, a fantastic event to witness. There seemed to be a real connection between band and audience, the latter were not merely spectators.
After the epic finale, the crowd wouldn't let an emotional Mariam and Andreas Werliin go without a second encore, so, with the ecstatic crowd pleading and whooping, the duo played 'The Way Things Go' from the band's debut Heartcore and I, like a lot of the other people in the venue I'm sure, was left enraptured and hand the feeling that I was just part of something very special.
To think that the the band and choir had not had as much time to prepare as they hoped for, and that the arrangements will inevitably evolve over time, this leaves the prospect of future performances with Voices as mouth-watering.
Thanks to Crazybobbles for the photos and videos. Rock Feedback recorded the gig, so we will hopefully have some professional footage to bring you soon.
Anyway, don't just take my word on Saturday's performance, here's another account:
http://closeto94.wordpress.com/2010/05/16/gig-wildbirds-peacedrums-with-voices-choir-of-young-believers-bishopsgate-institute/
---
NTWICQG - Janelle Monáe
Published 24 May 2010 by Tony Morley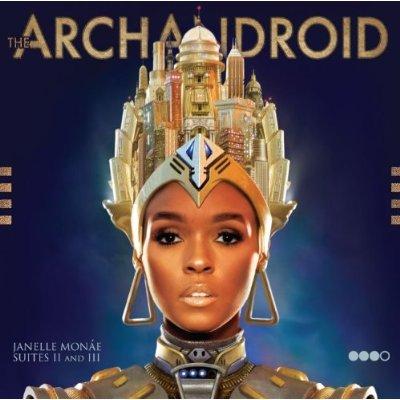 I haven't heard the new album yet, but when are people going to start noticing Janelle Monáe over here? It's out this week in the States, but no-one seems to be paying any attention in Europe. I saw her at SXSW last year and she's a brilliant performer - now she seems to have the material to back it up.
Watch the wonderful (and decidedly un-R&B) video for the current single 'Tightrope' here.
---
Leaf Office Playlist May 2010
Published 29 May 2010 by TM
What's been soundtracking May in the office. Now in glorious Spotify! (Well, some of it... Mostly not the new stuff)
Janelle Monae featuring Big Boi - Tight Rope
Julian Cope - Floored Genius 2: Best Of The Peel Sessions
Erykah Badu featuring Lil Wayne - Jump In The Air And Stay There
Gil Scott Heron featuring Nas - New York Is Killing Me
Parliament - Chocolate City
Afghan Whigs - Conjure Me
Dirty Sound System - Dirty Edits Vol 1 & 2
Reflection Eternal (Talib Kweli & Hi-Tek) featuring Estelle - Midnight Hour
Clara Rockmore - The Art Of The Theremin
Icarus - All Is For The Best In The Best Of All Possible Worlds
Theophilus London - I Want You (mixtape)
Nas - NY State Of Mind
Ivor Cutler - Ludo
Talking Heads - Making Flippy Floppy
Blurt - My Mother Was a Friend of an Enemy of the People
AC/DC - Rock And Roll Ain't Noise Pollution
---
RECENT POSTS
ARCHIVED POSTS
2022 April
2017 March
2016 May
2016 April
2016 March
2016 January
2015 December
2015 November
2015 October
2015 September
2015 July
2015 March
2015 January
2014 October
2014 August
2014 May
2014 April
2014 March
2014 February
2013 December
2013 July
2013 June
2013 May
2013 April
2013 March
2013 February
2012 December
2012 November
2012 October
2012 September
2012 August
2012 May
2012 April
2012 March
2012 February
2012 January
2011 December
2011 November
2011 October
2011 September
2011 June
2011 May
2011 April
2011 March
2011 February
2011 January
2010 December
2010 November
2010 October
2010 September
2010 August
2010 July
2010 June
2010 May
2010 April
2010 March
2010 February
2010 January
2009 December
2009 November
2009 September
2009 August
2009 July
2009 June
2009 May
2009 April
2009 March
2009 February
2009 January
2008 October
2008 April
RSS
Subscribe to the blog as an RSS Feed.