Acoustic Ladyland Say Goodbye
Published 12 October 2010 by BWL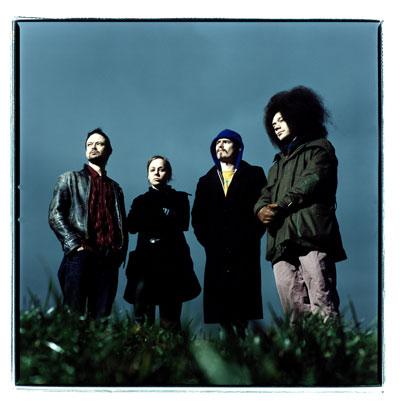 Acoustic Ladyland, the group led by Polar Bear saxophonist Pete Wareham and including fellow ursinary Seb Rochford, have announced that they are calling it a day at the end of this year, and have just released info on a farewell UK tour.
All is not lost - the same personnel (Wareham, Rochford, Ruth Goller & Chris Sharkey) will reincarnate in 2011 with a new project and with a brand new name. Watch this space...
The UK tour will include a four-night residency at The Vortex in London where each of Acoustic Ladyland's albums will performed in their entirety with the original line-ups. These songs will not be performed again, so this is not to be missed!
The band are also giving away a free remix of 'Gratitude' by bassist Goller (the original is taken from their last album Living With A Tiger). You can find it here.
Pete has made a mixtape too:
LISTENING PLEASURE by Acoustic Ladyland
More info here:
http://www.myspace.com/acousticladylandmusic
Here are all their dates:
Monday 25 October - Ronnie Scott's, LONDON
Friday 10 November - The Buffalo Bar, CARDIFF
Saturday 11 November - Slak, CHELTENHAM
Sunday 12 November - The Croft, BRISTOL
Monday 29 November - The Pavilion, BRIGHTON
Saturday 30 November - Haymakers, CAMBRIDGE
Wednesday 8 December - The Vortex, LONDON (performing Skinny Grin)
Thursday 9 December - The Vortex, LONDON (performing Camouflage)
Friday 10 December -The Vortex, LONDON (performing Last Chance Disco)
Saturday 11 December - The Vortex, LONDON (performing Living With A Tiger)
Wednesday 15 December - Brudenell Social Club, LEEDS
Thursday 16 December - The Duchess, YORK
Friday 17 December - Band On The Wall, MANCHESTER
Saturday 18 December - Cafe Drummonds, ABERDEEN
Sunday 19 December - Electric Circus, EDINBURGH
---
New Nancy Elizabeth Music
Published 13 October 2010 by RM
Nancy Elizabeth is currently busy writing new material but will be playing a few gigs before the end of the year so make sure you check out our live page for those.
In the meantime you can keep an eye on some of Nancy's new music (which may come as a surprise!) and some great mixes on her new Soundcloud page.
---
Check The Water T-Shirts
Published 14 October 2010 by RM
Always fancied getting your hands on a Leaf t-shirt? Well now you can in our brand new t-shirt section on our online shop. There are a range of mens and ladies limited edition Check The Water t-shirts which were produced in 2005 to coincide with Leaf's 10th anniversary. They've been unavailable for five years but now they're back, in very limited quantities, so head over to our shop now to have a look.
---
RECENT POSTS
ARCHIVED POSTS
2022 April
2017 March
2016 May
2016 April
2016 March
2016 January
2015 December
2015 November
2015 October
2015 September
2015 July
2015 March
2015 January
2014 October
2014 August
2014 May
2014 April
2014 March
2014 February
2013 December
2013 July
2013 June
2013 May
2013 April
2013 March
2013 February
2012 December
2012 November
2012 October
2012 September
2012 August
2012 May
2012 April
2012 March
2012 February
2012 January
2011 December
2011 November
2011 October
2011 September
2011 June
2011 May
2011 April
2011 March
2011 February
2011 January
2010 December
2010 November
2010 October
2010 September
2010 August
2010 July
2010 June
2010 May
2010 April
2010 March
2010 February
2010 January
2009 December
2009 November
2009 September
2009 August
2009 July
2009 June
2009 May
2009 April
2009 March
2009 February
2009 January
2008 October
2008 April
RSS
Subscribe to the blog as an RSS Feed.