Oh No Ono Dream Up New Video
Published 29 July 2010 by BWL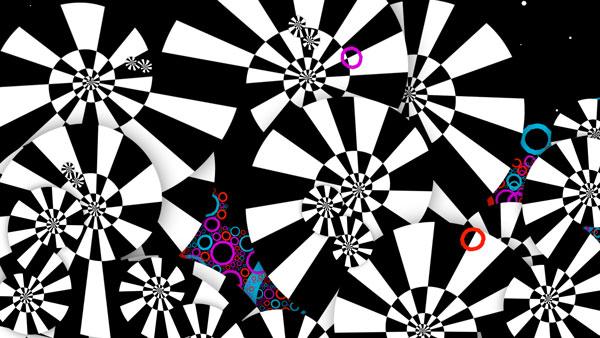 Oh No Ono have released a suitably entrancing video for single 'Internet Warrior', taken from this year's Eggs. Created by the team that brought you the similarly eye-catching clips for Efterklang's 'Polygyne', Colleen's 'The Happy Sea' and Vladislav Delay's 'Toive', this video is directed by Carolina Melis and Alessandro Monaco:
"The idea was to create a magical world: a mixture of organic forms and geometrical shapes. At time this video is like a journey into a vintage underwater dimension, then it suddenly turns into a graphical playground. There are no cuts, the idea was to create an ongoing continuous flow which starts with a macro view of a lobster and ends with a planetary view of the world. We started working on this video from a vintage book of diorama. We didn't story-boarded and planned, we just started with one image and we let this work grew day after day following the natural development of the animation. It's a very exciting and beautiful track and it has been a great pleasure to work on it."
Spin.com have premiered the video, which can be seen here:
http://www.spin.com/articles/exclusive-new-video-oh-no-ono
And Dailymotion are also featuring it here:
http://www.dailymotion.com/video/xe6o95_oh-no-ono-internet-warrior_music#hp-sc-p-1
'Internet Warrior' is available as a 12" and download EP featuring remixes by Caribou, Phenomenal Handclap Band, Shlohmo, Zambri and The Depreciation Guild (members of Pains Of Being Pure At Heart). Find out more here.
http://ohnoono.com
http://theleaflabel.com/ohnoono
LATEST NEWS
LATEST RELEASES
ARCHIVED NEWS
2015 September
2015 August
2015 July
2015 June
2015 March
2015 February
2015 January
2014 December
2014 October
2014 September
2014 August
2014 July
2014 June
2014 May
2014 April
2014 March
2014 February
2014 January
2013 December
2013 November
2013 October
2013 September
2013 August
2013 July
2013 June
2013 May
2013 April
2013 March
2013 February
2013 January
2012 December
2012 November
2012 October
2012 September
2012 August
2012 July
2012 June
2012 May
2012 April
2012 March
2012 February
2012 January
2011 December
2011 November
2011 October
2011 September
2011 August
2011 June
2011 May
2011 April
2011 March
2011 February
2010 December
2010 November
2010 October
2010 September
2010 August
2010 July
2010 June
2010 May
2010 April
2010 March
2010 February
2010 January
2009 December
2009 November
2009 October
2009 September
2009 August
2009 July
2009 June
2009 May
2009 April
2009 March
2009 February
2009 January
2008 December
2008 November
2008 October
RSS
Subscribe to News as an RSS Feed.