Polar Bear Announce Autumn UK Tour And Appear On Later Tonight
Published 16 April 2010 by BWL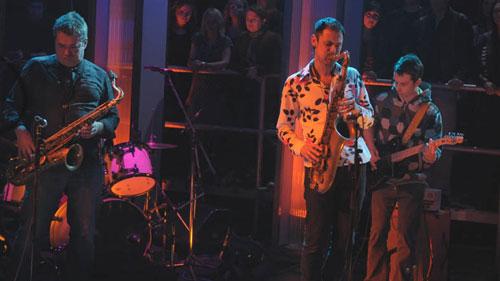 Sebastian Rochford's Polar Bear are on tonight's opening programme of BBC 2's Later... with Jools Holland. This is very exciting for us, not least because it is the first appearance of one of artists on the show, and appropriately in our 15th year (Leaf XV). The programme runs from 11.45pm tonight and will be available on BBC's iPlayer for those who will be tucked in by that point. More info here.
As a warm up to this, you can listen to Polar Bear's live session on Tom Robinson's BBC 6 Music show which runs from 7-9pm. Find out more here.
On a more unusual note, both Seb Rochford and Mark Lockheart from Polar Bear have been nominated for Jazz Musician Of The Year at the 2010 Parliamentary Jazz Awards. The awards take place at the House of Commons next month when there may well be a new government in office! Read more here.
The London based jazz band have just announced an appearance at this year's Great Escape festival in Brighton and a UK tour this autumn. All the dates are below:
Friday 23 April Ether, Front Room at Queen Elizabeth Hall, LONDON (free show - 5.30pm)
Monday 26 Apr 2010 Jazz Club, Katowice, POLAND
Sunday 2 May Camden Crawl, LONDON
Monday 3 May Cheltenham Jazz Festival, CHELTENHAM (6pm)
Thursday 13 May Rescue Rooms, NOTTINGHAM
Friday 14 May Great Escape, Komedia (upstairs), BRIGHTON (10pm)
Monday 17 May Cafe Wilhelmina, Eindhoven, NETHERLANDS
Thursday 20 May Hnita Jazz, Heist-op-den-Berg, BELGIUM
Friday 21 May Recyclart, Brussels, BELGIUM
Saturday 22 May LVC, Leiden, NETHERLANDS
Sunday 30 May Assembly Rooms, DERBY
Monday 21 June Glasgow Jazz Festival, GLASGOW
Saturday 3 July Mostly Jazz Festival, BIRMINGHAM
Sunday 29 August Aeon Festival, DEVON
Saturday 18 September Richmond Jazz Festival, RICHMOND (N. Yorks)
Thursday 30 September The Wardrobe, LEEDS
Friday 1 October Band On The Wall, MANCHESTER
Saturday 2 October Colston Hall, BRISTOL
Saturday 9 October E.M. Forster Theatre, TONBRIDGE
Sunday 10 October Warwick Arts Centre, COVENTRY
Friday 15 October Norwich Art Centre, NORWICH
Saturday 16 October Kazimier, LIVERPOOL
Sunday 17 October The Tunnels, ABERDEEN
Monday 18 October The Voodoo Rooms, EDINBURGH
Tuesday 19 October Town Hall Crypt, MIDDLESBROUGH
Wednesday 20 October The Duchess, YORK
Check out Polar Bear's brand new website and follow the band on twitter at the following links:
http://polarbearmusic.com
http://twitter.com/polarbearseb
http://myspace.com/sebastianrochford
http://theleaflabel.com/polarbear
LATEST NEWS
LATEST RELEASES
ARCHIVED NEWS
2015 November
2015 October
2015 September
2015 August
2015 July
2015 June
2015 March
2015 February
2015 January
2014 December
2014 October
2014 September
2014 August
2014 July
2014 June
2014 May
2014 April
2014 March
2014 February
2014 January
2013 December
2013 November
2013 October
2013 September
2013 August
2013 July
2013 June
2013 May
2013 April
2013 March
2013 February
2013 January
2012 December
2012 November
2012 October
2012 September
2012 August
2012 July
2012 June
2012 May
2012 April
2012 March
2012 February
2012 January
2011 December
2011 November
2011 October
2011 September
2011 August
2011 June
2011 May
2011 April
2011 March
2011 February
2010 December
2010 November
2010 October
2010 September
2010 August
2010 July
2010 June
2010 May
2010 April
2010 March
2010 February
2010 January
2009 December
2009 November
2009 October
2009 September
2009 August
2009 July
2009 June
2009 May
2009 April
2009 March
2009 February
2009 January
2008 December
2008 November
2008 October
RSS
Subscribe to News as an RSS Feed.