Win Tickets To See Polar Bear With Jyager In London
Published 2 March 2011 by RM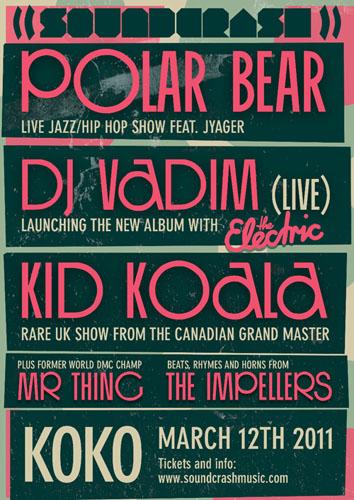 Polar Bear are playing a series of gigs with Jyager this year, following on from the Common Ground collaboration last year. We have a pair of tickets to giveaway for the show at London's Koko on Saturday 12 March, a bill which also includes Kid Koala and DJ Vadim! All you have to do to enter is tell us which type of bear TV legend Gentle Ben was. Send your answers, along with your contact details to us through our website, here. The draw will be made on Thursday 10 March at midday so get your answers in by then!
Here are all Polar Bear's shows, with and without Jyager:
Sun 6 Mar 2011 New Wolsey Theatre, Ipswich, UK
Sat 12 Mar 2011 with Jyager, Koko, London, UK
Wed 16 Mar 2011 with Jyager, Sound Control, Manchester, UK
Thu 17 Mar 2011 with Jyager, Brudenell Social Club, Leeds, UK
Sat 19 Mar 2011 Thekla, Bristol, UK
Wed 23 Mar 2011 with Jyager, Komedia, Brighton, UK
Thu 5 May 2011 The Space, Nottingham Contemporary, Nottingham, UK
Sun 22 May 2011 Green Hours International Jazz Festival, Bucharest, ROMANIA
Tue 21 Jun 2011 Spitalfields Music Festival, Village Underground, London, UK
Fri 24 Jun 2011 Cambridge Modern Jazz Club at Hidden Rooms, Cambridge, UK
Sat 13 Aug 2011 with Jyager, Brecon Jazz Festival, Brecon, UK
Sun 14 Aug 2011 with Jyager, Beacons Festival, Skipton, UK
Fri 19 Aug 2011 Green Man Festival, Brecon Beacons, UK
http://polarbearmusic.com
http://facebook.com/sebastianrochford
http://twitter.com/polarbearseb
---
Camden Crawl Line-Up Announced
Published 2 March 2011 by RM
We selected the artists we're going to have at our Camden Crawl event this year at the big annual bunfight at Dingwalls last night. We're not allowed to tell you who we've got, but we snaffled pretty much all our favourites, and the line-up will be even more diverse than it was last year. A proper party actually!
You can find an (almost) complete list of the artists playing at this year's Crawl here.
And you'll have to guess who we've got (three of our four artists are on the Saturday line-up, so take a guess!) Sadly there are no Leaf artists performing as part of our main bill due to lack of availability that weekend, but we're still hoping to book some Leaf related artists for the after-hours business. Oh, and the Polarbear that's on the bill is not our Polar Bear...
The Leaf event will be on Saturday April 30th, right in the thick of things at one of the best bars in Camden, The Black Heart on Greenland Place.
Get your tickets here.
---
Murcof Releases La Sangre Illuminada OST Worldwide
Published 20 March 2011 by BWL
In 2008 Murcof (Fernando Corona) scored the soundtrack to Mexican film La Sangre Illuminada. It was released on CD in Mexico at the time, but has remained unavailable elsewhere. A re-edited version of the soundtrack will be released worldwide on April 18 as a limited vinyl-only edition (including a CD) on the French Infiné label. A download version follows on May 9. Find out more about the release and pre-order the vinyl here.
Here's a taster of what to expect:
Murcof - La Sangre Iluminada from InFine Music on Vimeo.
To mark this new release, we've added a bundle of Murcof's five Leaf CDs to our shop. You can get Martes, Remembranza, Utopía, Cosmos, The Versailles Sessions and a Murcof poster for just £24.99 + postage while stocks last. Click here for more information.
http://murcof.com
http://www.facebook.com/murcof
---
Roll The Dice Join Leaf, Release Limited 12"
Published 21 March 2011 by TM
We are very excited to announce that we've signed Roll The Dice, who released their brilliant self-titled debut album through Digitalis last year.
Their first release for Leaf will be a limited edition 12", Live In Gothenburg - August 7 2010, which will be out on Record Store Day (April 16). The two fifteen minute live tracks will also be released as a digital download on the same day, with Boomkat having a worldwide digital exclusive five days earlier (April 11).
'The New Black' and 'Undertow' are live renditions of tracks taken from RTD's 2010 album. The vinyl issue is a beautifully packaged 12", limited to 750 copies for the world, which includes a printed inner sleeve and two postcards It will be available to purchase from our shop after that date. There will be no advance promo on the EP, but the tracks will be made available for streaming from April 11 - watch this space...
RTD are Stockholm-based duo Malcolm Pardon and Peder Mannerfelt. Mannerfelt plays with and produces Fever Ray as well as producing and remixing under the Subliminal Kid name, while Pardon produces music for film and TV. Pardon and Mannerfelt are currently working on their second full-length album, which will be released on Leaf later this year. The band's debut can be streamed on the band's Soundcloud page.
RTD have produced an eclectic mixtape for us, which XLR8R premiered earlier today.
This Is How We Roll by Roll the Dice
http://rollthedicesthlm.com
http://facebook.com/rollthedice
http://myspace.com/rollthedicesthlm
---
Polar Bear Give Away Exclusive Track
Published 25 March 2011 by BWL
Polar Bear's Seb Rochford has recorded a brand new track with MC collaborator, Jyager, which you can download exclusively for free by signing up to PB's mailing list. The song, 'Do It All Tha Time', harks back to old-skool hip-hop and a version of the track was played on the band's recent shows with the Portuguese-born rapper, so if you were at one of the gigs it may well ring some bells!
To sign up to the newsletter, click here.
Follow through the confirmation process and you will receive a link to download the track.
Polar Bear have confirmed a number of festival performances this summer including Spitalfields Music Festival, Beacons and Green Man. You can see all the live shows here.
http://polarbearmusic.com
http://facebook.com/sebastianrochford
http://twitter.com/polarbearseb
---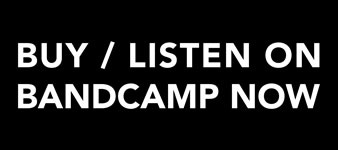 LATEST NEWS
ARCHIVED NEWS
2023 October
2023 August
2023 May
2023 April
2023 March
2023 February
2023 January
2022 December
2022 November
2022 October
2022 September
2022 August
2022 July
2022 May
2022 April
2022 March
2022 February
2022 January
2021 November
2021 October
2021 September
2021 July
2021 June
2021 May
2021 April
2021 March
2021 February
2021 January
2020 December
2020 November
2020 October
2020 September
2020 August
2020 July
2020 June
2020 May
2020 April
2020 March
2020 February
2020 January
2019 December
2019 November
2019 October
2019 September
2019 August
2019 July
2019 June
2019 May
2019 April
2019 March
2019 February
2019 January
2018 December
2018 November
2018 October
2018 September
2018 August
2018 July
2018 June
2018 May
2018 April
2018 March
2018 February
2018 January
2017 December
2017 November
2017 October
2017 September
2017 August
2017 July
2017 June
2017 May
2017 April
2017 March
2016 November
2016 October
2016 September
2016 August
2016 July
2016 June
2016 May
2016 April
2016 March
2016 February
2016 January
2015 December
2015 November
2015 October
2015 September
2015 August
2015 July
2015 June
2015 March
2015 February
2015 January
2014 December
2014 October
2014 September
2014 August
2014 July
2014 June
2014 May
2014 April
2014 March
2014 February
2014 January
2013 December
2013 November
2013 October
2013 September
2013 August
2013 July
2013 June
2013 May
2013 April
2013 March
2013 February
2013 January
2012 December
2012 November
2012 October
2012 September
2012 August
2012 July
2012 June
2012 May
2012 April
2012 March
2012 February
2012 January
2011 December
2011 November
2011 October
2011 September
2011 August
2011 June
2011 May
2011 April
2011 March
2011 February
2010 December
2010 November
2010 October
2010 September
2010 August
2010 July
2010 June
2010 May
2010 April
2010 March
2010 February
2010 January
2009 December
2009 November
2009 October
2009 September
2009 August
2009 July
2009 June
2009 May
2009 April
2009 March
2009 February
2009 January
2008 December
2008 November
2008 October
RSS
Subscribe to Blog as an RSS Feed.