A Hawk And A Hacksaw European Tour Announced
Published 1 April 2009 by BWL
A Hawk And A Hacksaw have announced their most extensive European tour to date this spring. The core duo of Jeremy Barnes and Heather Trost will tour as a six-piece band. A Hawk And A Hacksaw been on tour since mid March, with appearances at SXSW, followed by North American shows with Andrew Bird and Wilco. The European tour will begin in Leeds on May 2 as part of the fuseleeds09 festival, and you can find details of all the shows below.
A Hawk And A Hacksaw will release their fourth album, Délivrance, on May 18. Recorded in Budapest, Devon and Albuquerque during the second half of 2008, the album is their first full length release since the much-loved The Way The Wind Blows in 2006.
A single, 'Foni Tu Argile', precedes the album on April 27. As well as the obligatory digital download, there will also be a limited edition of 500 hand-numbered 10" singles, cut at 78rpm, with packaging that replicates the shellac records of old. Hear 'Foni Tu Argile' now on AHAAH's myspace:
http://www.myspace.com/ahawkandahacksaw
http://www.ahawkandahacksaw.co.uk
Here are the dates:
Sat 2 May: fuseleeds09, West Yorkshire Playhouse, Leeds, UK
Thu 14 May: Les Nuits Botanique, Brussels, BELGIUM
Sat 16 May: Bar Mondial, Antwerp, BELGIUM
Sun 17 May: Ekko, Utrecht, NETHERLANDS
Tue 19 May: Paradiso, Amsterdam, NETHERLANDS
Thu 21 May: Dreikönigskirche, Dresden, GERMANY
Fri 22 May: Dragon, Poznan, POLAND
Sat 23 May: Maschinenhaus, Berlin, GERMANY
Sun 24 May: Skala, Leipzig, GERMANY
Tue 26 May: Vega, Copenhagen, DENMARK
Wed 27 May: Musikcafeen, Aarhus, DENMARK
Thu 28 May: Woody West, Storan, Gothenburg, SWEDEN
Sat 30 May: Blå, Oslo, NORWAY
Sun 31 May: Kägelbanan, Stockholm, SWEDEN
Tue 2 Jun: MS Stubnitz, Rostock, GERMANY
Wed 3 Jun: Fundbureau, Hamburg, GERMANY
Thu 4 Jun: Feinkost Lampe, Hannover, GERMANY
Fri 5 Jun: Laboratorium, Stuttgart, GERMANY
Sun 7 Jun: Tous Au Sud Festival, Lille, FRANCE
Mon 8 Jun: White Rabbit, Freiburg, GERMANY
Tue 9 Jun: L'Usine, Geneva, SWITZERLAND
Wed 10 Jun: Auditorium San Rocco, Carpi, ITALY
Thu 11 Jun: Nuvolari Libera Tribu, Cuneo, ITALY
Sat 13 Jun: De L'Autre Côté Du Pont, Lyon, FRANCE
Tue 16 Jun: Duke of York's Picturehouse, Brighton, UK
Wed 17 Jun: Fiddlers Club, Bristol, UK
Thu 18 Jun: Cecil Sharp House, London, UK
Fri 19 Jun: Baltic, Gateshead, UK
Sat 20 Jun: Tollbooth, Stirling, UK
Sun 21 Jun: The Arches, Glasgow, UK
Tue 23 Jun: Hare & Hounds, Birmingham, UK
Wed 24 Jun: Holywell Music Room, Oxford, UK
Thu 25 Jun: Arts Centre, Norwich, UK
---
Essie Jain To Play Handful Of European Shows
Published 1 April 2009 by BWL
Essie Jain will make a brief tour of Europe this month. A one-off co-headline show in London with American singer-songwriter Tom Brosseau acts as a warm up for Le Printemps De Bourges festival in France. All dates can be found below.
Essie recently returned from a hugely successful European tour promoting her second album, The Inbetween, which was released late last year. France, in particular, has warmed to her seductive talent.
Essie will perform the London show with a band, featuring husband and musical foil Patrick Glynn (guitar), Jonny Bridgwood (bass) and Howard Monk (drums), while the French shows will be performed as a duo with Patrick. She will return to France in July for another festival appearance, at Les Tombées De La Nuit in Rennes. More dates TBC.
http://www.myspace.com/essiejain
Catch some of Essie's performance in Lyon earlier this year:
The dates:
Tue 21 Apr: Bush Hall, London, UK
Thu 23 Apr: Le Printemps de Bourges, l'Auditorium, Bourges, FRANCE
Fri 24 Apr: Cabaret Electric, Le Havre, FRANCE
Wed 8 Jul: Les Tombées De La Nuit, Rennes, FRANCE
---
A Hawk And A Hacksaw's 'Foni Tu Argile' Available Now
Published 15 April 2009 by BWL
A Hawk And A Hacksaw's first ever single, a very special hand numbered limited edition 10" vinyl record cut at 78rpm, is available to order now from our online shop. 'Foni Tu Argile' is in stock and will be posted immediately. Additionally, and exclusively, buyers can claim a free download of two of the tracks from the single with their purchase from our shop, which removes the need for finding a turntable for playing your 78 on!
The record will also be available to buy in the UK for one day only as part of Record Store Day on April 18. There will be just 100 copies released to UK stores. Record Store Day is an international event celebrating independent record stores and music, and you can find your nearest store here:
http://www.recordstoreday.com/unitedkingdom
In the rest of the world, the single will be available from April 27, but don't sleep on it - there are only 500 for the world and we anticipate that they will fly!
The single will also be available as a digital download through the usual digital stores from April 27.
You can pre-order A Hawk And A Hacksaw's forthcoming album Délivrance now from our shop by clicking here:
http://leaf.greedbag.com/buy/dlivrance
It will be in stores from May 18.
Hear 'Foni Tu Argile' and see the band's upcoming tour dates at their myspace:
http://www.myspace.com/ahawkandahacksaw
http://www.ahawkandahacksaw.co.uk
---
Wildbirds & Peacedrums Special Show In London
Published 16 April 2009 by BWL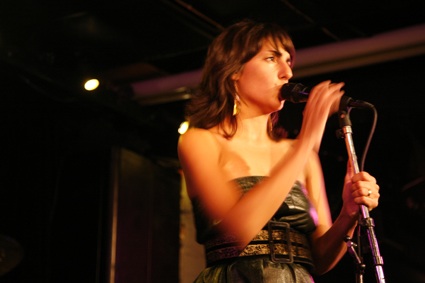 Wildbirds & Peacedrums have been confirmed to play a very special show at The Coronet Theatre in London on Friday 5 June. The performance will expand the usual husband and wife line up of Andreas Werliin (percussion) and Mariam Wallentin (vocals, zither, steel drum) to a one-off twenty-piece drumming ensemble. A sight not to be missed! The event, entitled A Ritual For Elephant & Castle, will be headlined by electro-prog metallists Chrome Hoof.
http://www.nomad.org.uk/commissions/a-ritual-for-elephant-castle
A new single from the Swedish duo's second album The Snake (please note that release date for the album has been pushed back to April 20) is also in the pipeline. 'My Heart'', a seven minute gospel-pop epic already cited by some as a contender for song of the year, will be released soon on 7" and download, date to be confirmed, backed with various reworkings. More details coming soon.
You can see a live version of the track on the recent Bandstand Busking session that they recorded and hear the album version on the band's myspace:
http://www.myspace.com/wildbirdsandpeacedrums
---
Vladislav Delay Joins The Leaf Label
Published 24 April 2009 by BWL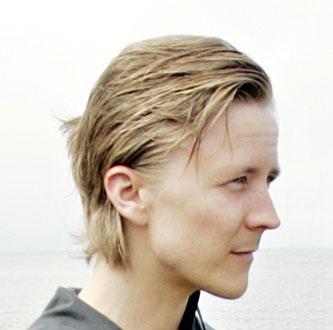 We are delighted to announce that we will be working with celebrated Finnish electronic composer Vladislav Delay on his next album, currently scheduled for release in late summer 2009. The new album, which features contributions from Craig Armstrong and Lucio Capece, is a far more organic, live-sounding record than any of his previous work as Vladislav Delay, reflecting his renewed interest in jazz and acoustic performance.
Delay, real name Sasu Ripatti, is one of the most innovative and influential electronic musicians of the last two decades, and we at Leaf are committed fans of his hypnotic, intricate work. Ripatti also records as Luomo and Uusitalo, and his most recent release was a collaborative album with his partner Antye Greie, under the name AGF/Delay. His last album as Vladislav Delay was 2007's under-rated Whistleblower, which, like most of his recent releases, was on his own Huume Recordings imprint (including re-issues of the classic Multila and Anima albums, originally released by Chain Reaction and Mille Plateaux respectively).
Resident in Berlin for five years until 2008, Ripatti recently moved back to his home country, and now lives on a small island in the Baltic.
You can find more information on his excellent website:
http://www.vladislavdelay.com
http://www.myspace.com/vladislavdelaymusic
http://theleaflabel.com/vladislavdelay
---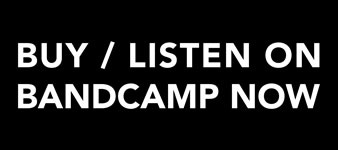 LATEST NEWS
ARCHIVED NEWS
2023 August
2023 May
2023 April
2023 March
2023 February
2023 January
2022 December
2022 November
2022 October
2022 September
2022 August
2022 July
2022 May
2022 April
2022 March
2022 February
2022 January
2021 November
2021 October
2021 September
2021 July
2021 June
2021 May
2021 April
2021 March
2021 February
2021 January
2020 December
2020 November
2020 October
2020 September
2020 August
2020 July
2020 June
2020 May
2020 April
2020 March
2020 February
2020 January
2019 December
2019 November
2019 October
2019 September
2019 August
2019 July
2019 June
2019 May
2019 April
2019 March
2019 February
2019 January
2018 December
2018 November
2018 October
2018 September
2018 August
2018 July
2018 June
2018 May
2018 April
2018 March
2018 February
2018 January
2017 December
2017 November
2017 October
2017 September
2017 August
2017 July
2017 June
2017 May
2017 April
2017 March
2016 November
2016 October
2016 September
2016 August
2016 July
2016 June
2016 May
2016 April
2016 March
2016 February
2016 January
2015 December
2015 November
2015 October
2015 September
2015 August
2015 July
2015 June
2015 March
2015 February
2015 January
2014 December
2014 October
2014 September
2014 August
2014 July
2014 June
2014 May
2014 April
2014 March
2014 February
2014 January
2013 December
2013 November
2013 October
2013 September
2013 August
2013 July
2013 June
2013 May
2013 April
2013 March
2013 February
2013 January
2012 December
2012 November
2012 October
2012 September
2012 August
2012 July
2012 June
2012 May
2012 April
2012 March
2012 February
2012 January
2011 December
2011 November
2011 October
2011 September
2011 August
2011 June
2011 May
2011 April
2011 March
2011 February
2010 December
2010 November
2010 October
2010 September
2010 August
2010 July
2010 June
2010 May
2010 April
2010 March
2010 February
2010 January
2009 December
2009 November
2009 October
2009 September
2009 August
2009 July
2009 June
2009 May
2009 April
2009 March
2009 February
2009 January
2008 December
2008 November
2008 October
RSS
Subscribe to Blog as an RSS Feed.