Polar Bear On The BBC
Published 1 April 2010 by BWL
It's a busy old time for Polar Bear. April sees a flurry of appearances on the BBC, both on the radio and, most excitingly, TV!
The big news is that, on April 16, Polar Bear become the first ever Leaf artist to perform on 'Later... with Jools Holland'. You can find this programme on BBC 2 and via BBC's smashing iPlayer (if you are lucky enough to be able to access it):
http://www.bbc.co.uk/later
The show will be recorded on April 13, and you can apply for tickets to the recording at the same link. Join us!
Next Monday (April 5), Radio 3's Jazz On 3 will air the recording of the band's show at The Garage, London, from last month. The programme runs from 11.15pm (UK time) and more info can be found here:
http://www.bbc.co.uk/programmes/b00rs5qq
The following night, April 6, Jamie Cullum kicks off a new series of his Radio 2 show with a session and interview with Seb Rochford's band. The hour long show begins at 7pm:
http://www.bbc.co.uk/programmes/b00rv555
On the same night as the Later... broadcast, April 16, another session will be aired on Tom Robinson's BBC 6 Music show. The show runs from 7pm-9pm:
http://www.bbc.co.uk/6music/shows/tom_robinson
Finally, not strictly a BBC related story, but we have uploaded two live videos of Polar Bear from their gig at Coventry's Taylor John's House from April last year. Here's 'The Love Didn't Go Anywhere':
And you can find the segued 'Goodbye'/'Appears, Moves and Sails' here:
http://www.vimeo.com/10429195
http://polarbearmusic.com
http://myspace.com/sebastianrochford
http://theleaflabel.com/polarbear
---
Efterklang Perform Parades In Amsterdam
Published 6 April 2010 by BWL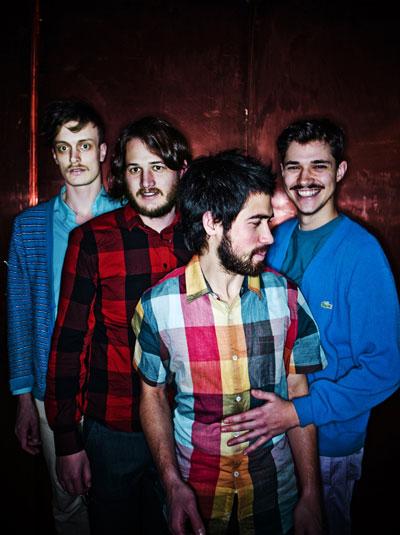 Efterklang have announced that they will be 'Performing Parades' on June 19 at the http://www.hollandfestival.nl Holland Festival in Amsterdam. Metropole Orkest, who have played with the likes of Burt Bacharach and Anthony & The Johnsons recently, join the Danish collective for this performance.
A live video and audio recording of Performing Parades was released at the end of last year which was captured in the band's hometown of Copenhagen along with The Danish National Chamber Orchestra in September 2008. Find out more here.
Efterklang have just released their third studio album, Magic Chairs, on their new home 4AD and are busy touring around Europe at the moment. See all the dates and find out about the new record here:
http://www.efterklang.net/home
---
Polar Bear On BBC 2 Tomorrow
Published 8 April 2010 by BWL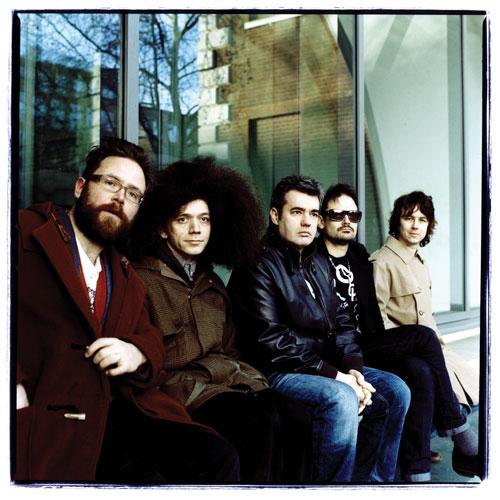 Further to our post earlier this week on Polar Bear's appearances on the BBC, we are delighted to confirm that Polar Bear will be performing on The Review Show tomorrow night, Friday April 9. The line up has been whittled down to band leader Seb Rochford and tenor sax player Pete Wareham and they will perform an improvised piece at the end of the show which runs from 11-11.45pm on BBC 2. Find out more here.
---
Polar Bear Announce Autumn UK Tour And Appear On Later Tonight
Published 16 April 2010 by BWL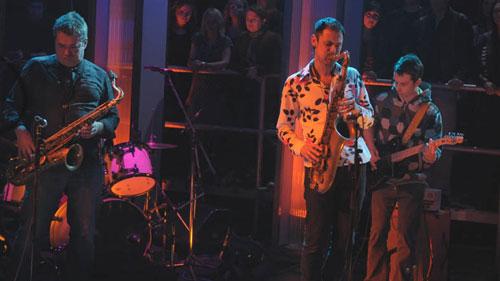 Sebastian Rochford's Polar Bear are on tonight's opening programme of BBC 2's Later... with Jools Holland. This is very exciting for us, not least because it is the first appearance of one of artists on the show, and appropriately in our 15th year (Leaf XV). The programme runs from 11.45pm tonight and will be available on BBC's iPlayer for those who will be tucked in by that point. More info here.
As a warm up to this, you can listen to Polar Bear's live session on Tom Robinson's BBC 6 Music show which runs from 7-9pm. Find out more here.
On a more unusual note, both Seb Rochford and Mark Lockheart from Polar Bear have been nominated for Jazz Musician Of The Year at the 2010 Parliamentary Jazz Awards. The awards take place at the House of Commons next month when there may well be a new government in office! Read more here.
The London based jazz band have just announced an appearance at this year's Great Escape festival in Brighton and a UK tour this autumn. All the dates are below:
Friday 23 April Ether, Front Room at Queen Elizabeth Hall, LONDON (free show - 5.30pm)
Monday 26 Apr 2010 Jazz Club, Katowice, POLAND
Sunday 2 May Camden Crawl, LONDON
Monday 3 May Cheltenham Jazz Festival, CHELTENHAM (6pm)
Thursday 13 May Rescue Rooms, NOTTINGHAM
Friday 14 May Great Escape, Komedia (upstairs), BRIGHTON (10pm)
Monday 17 May Cafe Wilhelmina, Eindhoven, NETHERLANDS
Thursday 20 May Hnita Jazz, Heist-op-den-Berg, BELGIUM
Friday 21 May Recyclart, Brussels, BELGIUM
Saturday 22 May LVC, Leiden, NETHERLANDS
Sunday 30 May Assembly Rooms, DERBY
Monday 21 June Glasgow Jazz Festival, GLASGOW
Saturday 3 July Mostly Jazz Festival, BIRMINGHAM
Sunday 29 August Aeon Festival, DEVON
Saturday 18 September Richmond Jazz Festival, RICHMOND (N. Yorks)
Thursday 30 September The Wardrobe, LEEDS
Friday 1 October Band On The Wall, MANCHESTER
Saturday 2 October Colston Hall, BRISTOL
Saturday 9 October E.M. Forster Theatre, TONBRIDGE
Sunday 10 October Warwick Arts Centre, COVENTRY
Friday 15 October Norwich Art Centre, NORWICH
Saturday 16 October Kazimier, LIVERPOOL
Sunday 17 October The Tunnels, ABERDEEN
Monday 18 October The Voodoo Rooms, EDINBURGH
Tuesday 19 October Town Hall Crypt, MIDDLESBROUGH
Wednesday 20 October The Duchess, YORK
Check out Polar Bear's brand new website and follow the band on twitter at the following links:
http://polarbearmusic.com
http://twitter.com/polarbearseb
http://myspace.com/sebastianrochford
http://theleaflabel.com/polarbear
---
Wildbirds & Peacedrums with Voices Tour Trailer
Published 27 April 2010 by BWL
Wildbirds & Peacedrums return in May with a very special European tour and Retina, the first of two vinyl only EPs. The Gothenburg-based duo will be accompanied by a handpicked 12-strong Swedish choir on the cluster of dates, which begins at the Pavement-curated ATP on Friday 14 May.
The release date for Retina has been put back to May 24 due to production problems, but it will be worth the wait - the 5-track EP will be pressed on white vinyl and housed in a stunning black and silver sleeve. We are confident that the band will have copies of the EP to sell at the shows, and we will make them available to purchase through our shop as soon as we can.
Here's a short taster of what to expect from the upcoming shows and EP, compiled from live footage from the recording in Iceland this January:
And youtube.
We are offering a free download of 'Fight For Me' from Retina to subscribers to the Leaf mailing list. Find out more by signing up or logging in here:
http://leaf.greedbag.com/subscribe
You can also hear 'Fight For Me' on the band's myspace:
http://myspace.com/wildbirdsandpeacedrums
The second EP, Iris, will follow on June 21, and both EPs will be compiled as an album, entitled Rivers, to be released on August 23 on CD and download.
Wildbirds & Peacedrums and Voices:
Friday 14 May - ATP Festival, Minehead, UK
Saturday 15 May - Bishopsgate Institute, London, UK (with Choir Of Young Believers)
Sunday 16 May - Café De La Danse, Paris, France
Monday 17 May - Dampfzentrale, Bern, Switzerland
Wednesday 19 May - Babel, Malmö, Sweden
Thursday 20 May - Jazzhouse, Copenhagen, Denmark
Friday 21 May - Blå, Oslo, Norway
Saturday 22 May - Södra Teatern, Stockholm, Sweden
Sunday 23 May - Pusterviksteatern, Gothenburg, Sweden
---
Oh No Ono EP, European Tour, Video Game And Bear In Heaven Remix
Published 28 April 2010 by BWL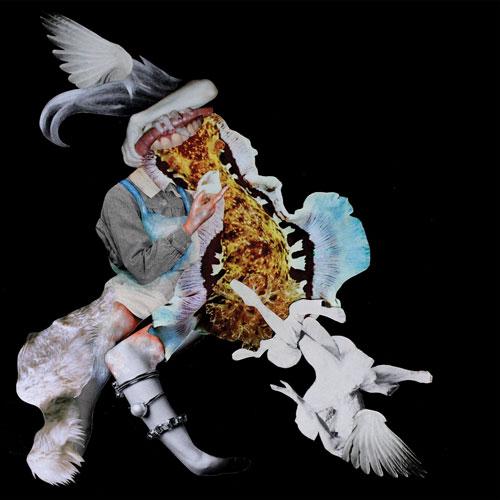 Oh No Ono are in the London this weekend for two shows in Camden, one at the Proud Gallery on Saturday and the other as part of The Camden Crawl on Sunday. A European tour follows later in the month, with all the dates below.
The Danish quartet released Eggs in February to widespread acclaim, and the 'Internet Warrior' EP is released on May 17 as a download (with a limited vinyl remix EP to follow). The single includes remixes by Caribou, Phenomenal Handclap Band, Shlohmo, Zambri and The Depreciation Guild (members of The Pains Of Being Pure At Heart).
To mark the release, Oh No Ono have created a space invaders-style video game which you can find on their website.
Meanwhile, the band have remixed a track by Brooklyn's Bear in Heaven which was previewed by Pitchfork earlier this week.
Oh No Ono live:
Fri 30 Apr - Train, Aarhus, DENMARK
Sat 1 May - Proud Camden, London, UK
Sun 2 May - Camden Crawl, London, UK
Fri 14 May - Handelsbeurs, Gent, BELGIUM
Sat 15 May - La Fleche D'Or, Paris, FRANCE
Mon 17 May - The Luminaire, London, UK
Wed 19 May - Liverpool Sound City, The Kazimier, Liverpool, UK
Thu 20 May - Art Rock Festival, St Brieuc, FRANCE
Sat 22 May - Prinzenbar, Hamburg, GERMANY
Sun 23 May - **NEW VENUE** Comet Club, Berlin, GERMANY
Mon 24 May - Studio 672, Cologne, GERMANY
Tue 25 May - Nachtleben, Frankfurt, GERMANY
Wed 26 May - 59:1, Munich, GERMANY
Thu 27 May - Salumeria della Musica, Milan, ITALY
Fri 28 May - Bronson, Ravenna, ITALY
Sat 29 May - Seewiesen Festival , Kleinreifling, AUSTRIA
Sun 30 May - 007, Prague, CZECH REPUBLIC
Fri 23 Jul - Tivoli Friheden, Aarhus, DENMARK
http://www.ohnoono.com
http://www.myspace.com/ohnoono
http://www.theleaflabel.com/ohnoono
---
Nancy Elizabeth On 'Kept Impulses' UK Tour With James Blackshaw & Hauschka
Published 29 April 2010 by BWL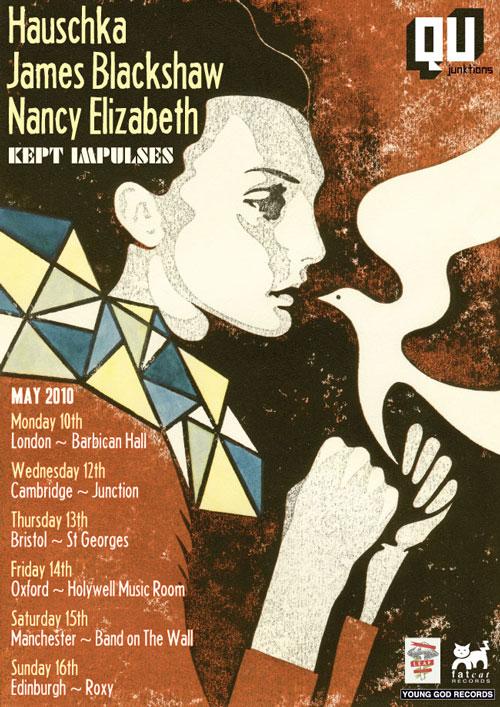 Nancy Elizabeth begins her collaborative tour in May with 12-string guitarist James Blackshaw and prepared piano player Hauschka. Under the banner 'Kept Impulses', the dates begin with a prestigious show at the Barbican in London on May 10.
The three artists will be on stage together throughout, first performing on each other's songs in intimate musical conversation, before being joined by a chamber orchestra (directed by David Coulter and featuring multi-instrumentalist Thomas Bloch and harpist Julia Thornton) to play specially-commissioned arrangements of their material. This is a unique opportunity to hear three great individualists creating beautifully-matched music from the common ground that they share in modern folk, contemporary composition and bewitching song.
Here are the Kept Impulses dates plus a show in Malta and an appearance at the Big Session festival in June:
Mon 10 May - Kept Impulses, Barbican, London, UK
Wed 12 May - Kept Impulses, The Junction, Cambridge, UK
Thu 13 May - Kept Impulses, St George's, Bristol, UK
Fri 14 May - Kept Impulses, Holywell Music Room, Oxford, UK
Sat 15 May - Kept Impulses, Band On The Wall, Manchester, UK
Sun 16 May - Kept Impulses, The Roxy, Edinburgh, UK
Wed 9 Jun - MITP Theatre, Valletta, MALTA
Sat 19 Jun - Big Session, Leicester, UK
http://www.myspace.com/nancyelizabethcunliffe
http://www.theleaflabel.com/nancyelizabeth
---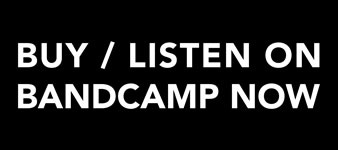 LATEST NEWS
ARCHIVED NEWS
2023 October
2023 August
2023 May
2023 April
2023 March
2023 February
2023 January
2022 December
2022 November
2022 October
2022 September
2022 August
2022 July
2022 May
2022 April
2022 March
2022 February
2022 January
2021 November
2021 October
2021 September
2021 July
2021 June
2021 May
2021 April
2021 March
2021 February
2021 January
2020 December
2020 November
2020 October
2020 September
2020 August
2020 July
2020 June
2020 May
2020 April
2020 March
2020 February
2020 January
2019 December
2019 November
2019 October
2019 September
2019 August
2019 July
2019 June
2019 May
2019 April
2019 March
2019 February
2019 January
2018 December
2018 November
2018 October
2018 September
2018 August
2018 July
2018 June
2018 May
2018 April
2018 March
2018 February
2018 January
2017 December
2017 November
2017 October
2017 September
2017 August
2017 July
2017 June
2017 May
2017 April
2017 March
2016 November
2016 October
2016 September
2016 August
2016 July
2016 June
2016 May
2016 April
2016 March
2016 February
2016 January
2015 December
2015 November
2015 October
2015 September
2015 August
2015 July
2015 June
2015 March
2015 February
2015 January
2014 December
2014 October
2014 September
2014 August
2014 July
2014 June
2014 May
2014 April
2014 March
2014 February
2014 January
2013 December
2013 November
2013 October
2013 September
2013 August
2013 July
2013 June
2013 May
2013 April
2013 March
2013 February
2013 January
2012 December
2012 November
2012 October
2012 September
2012 August
2012 July
2012 June
2012 May
2012 April
2012 March
2012 February
2012 January
2011 December
2011 November
2011 October
2011 September
2011 August
2011 June
2011 May
2011 April
2011 March
2011 February
2010 December
2010 November
2010 October
2010 September
2010 August
2010 July
2010 June
2010 May
2010 April
2010 March
2010 February
2010 January
2009 December
2009 November
2009 October
2009 September
2009 August
2009 July
2009 June
2009 May
2009 April
2009 March
2009 February
2009 January
2008 December
2008 November
2008 October
RSS
Subscribe to Blog as an RSS Feed.