Watch the new video for AU's 'Solid Gold'
Published 1 October 2012 by BWL
AU have released a new video for 'Solid Gold' taken from this year's Both Lights album. The partially autobiographical clip was directed by Italian Roberto Ortu, capturing nostalgic emotions of brotherhood, and was premiered on Stereogum.com earlier. There are still a few copies of the 'Solid Gold' 7" in our shop, both tracks feature celebrated saxophonist Colin Stetson.
Later this month, AU begin a North American tour including shows with Zammuto (ex-The Books). You can see all shows here.
au-au-au.com
theleaflabel.com/au
@autheband
facebook.com/AUband
---
Jherek Bischoff scores
Published 2 October 2012 by BWL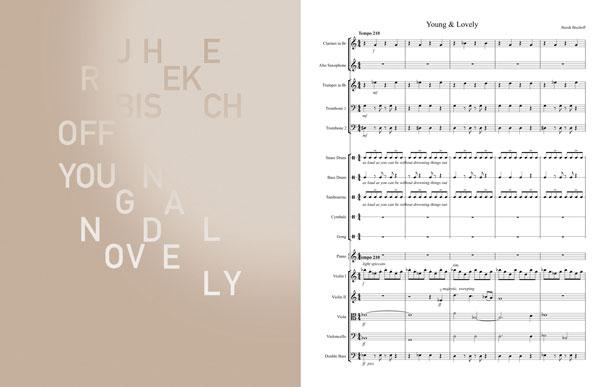 Jherek Bischoff is to release an instrumental version of his recent Composed album, entitled Scores: Composed Instrumentals. This version of the album may omit the vocals of David Byrne, Caetano Veloso et al, but it offers a new and rewarding way to explore Jherek's work as a composer, arranger and producer. Unusually, this digital only release also provides an opportunity to get your hands on the actual musical score as a series of pdf booklets with the download.
The 'deluxe' version of the album, including the score transcripts, will be available exclusively through Leaf's online store from this week. The 'standard' album will be also released through iTunes, Amazon, Spotify, etc from October 22, coinciding with the beginning of Jherek's European tour with Amanda Palmer (see our live page). You can read Jherek's take on the controversy surrounding Amanda's decision to crowdsource musicians for the current tour here.
Jherek is encouraging fans to record versions of his songs and post them on his Facebook and Twitter accounts, with prizes for the best versions.
For more information on the original version of the album, take a look at the Composed page on the website.
jherekbischoff.com
theleaflabel.com/jherekbischoff
@jherekbischoff
facebook.com/jherekbischoff
---
Win tickets to Matthew Bourne's World Tour of London
Published 3 October 2012 by BWL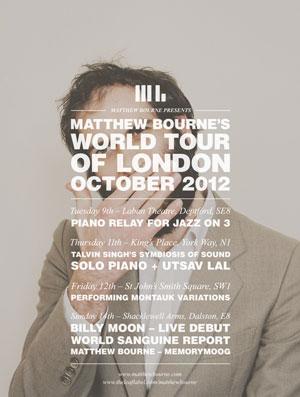 Matthew Bourne's World Tour of London (full info here) begins next week and we can offer one lucky person a pair of tickets to all four shows as well as his album Montauk Variations on CD. All you have to do is tell us which tune Matthew recently covered that we posted on our blog. Clue: you would have heard it a lot this year!
Email us your answer with the subject line 'WToL' by midnight on Sunday October 7th and the winner will be contacted on Monday next week.
Here are the shows:
Tue 9 Oct 2012 Piano Relay, Laban Theatre, London
Thu 11 Oct 2012 Kings Place, London
Fri 12 Oct 2012 St John's Smith Square, London
Sun 14 Oct 2012 The Shacklewell Arms, London
Sign up to Matthew's mailing list here to hear everything from the horse's mouth, so to speak.
matthewbourne.com
theleaflabel.com/matthewbourne
@mortbutane
facebook.com/mortbutane
---
October's entry in Sebastian Rochford's audio diary
Published 26 October 2012 by RM
Celebrated cellist Oliver Coates is Sebastian Rochford's partner in crime for October's Takeaway single. Their brooding, cinematic track, 'The Boat Sails To A Blind Horizon', is described by Coates as "A voyage to uncharted Scottish isles, a kind of transplanted Heart of Darkness."
Coates won the Royal Philharmonic Society Young Artist Award 2011 and has collaborated with artists as diverse as Micachu, MF Doom, Leo Abrahams, Steve Reich and Jonny Greenwood.
'The Boat Sails To A Blind Horizon' can be streamed and purchased on the Takeaway's Bandcamp (or from the Leaf shop) along with a remix from Chris Sharkey (trioVD, Acoustic Ladyland).
thetakeaway.net
theleaflabel.com/thetakeaway
@atthetakeaway
facebook.com/atthetakeaway
---
Jherek Bischoff releases a third Wordless Music Orchestra video
Published 29 October 2012 by RM
'Blossom' is the only song on Jherek Bischoff's Composed album which he sings himself. He's been performing it every night on his current tour with Amanda Palmer, and now you get the chance to see how he did it with The Wordless Music Orchestra in New York earlier this year. You can stream the video on Youtube (see above) and vimeo, following a premiere in Alarm magazine's website last week.
jherekbischoff.com
theleaflabel.com/jherekbischoff
@jherekbischoff
facebook.com/jherekbischoff
---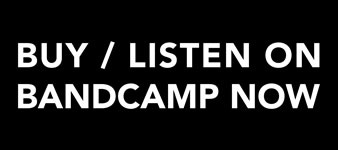 LATEST NEWS
ARCHIVED NEWS
2023 October
2023 August
2023 May
2023 April
2023 March
2023 February
2023 January
2022 December
2022 November
2022 October
2022 September
2022 August
2022 July
2022 May
2022 April
2022 March
2022 February
2022 January
2021 November
2021 October
2021 September
2021 July
2021 June
2021 May
2021 April
2021 March
2021 February
2021 January
2020 December
2020 November
2020 October
2020 September
2020 August
2020 July
2020 June
2020 May
2020 April
2020 March
2020 February
2020 January
2019 December
2019 November
2019 October
2019 September
2019 August
2019 July
2019 June
2019 May
2019 April
2019 March
2019 February
2019 January
2018 December
2018 November
2018 October
2018 September
2018 August
2018 July
2018 June
2018 May
2018 April
2018 March
2018 February
2018 January
2017 December
2017 November
2017 October
2017 September
2017 August
2017 July
2017 June
2017 May
2017 April
2017 March
2016 November
2016 October
2016 September
2016 August
2016 July
2016 June
2016 May
2016 April
2016 March
2016 February
2016 January
2015 December
2015 November
2015 October
2015 September
2015 August
2015 July
2015 June
2015 March
2015 February
2015 January
2014 December
2014 October
2014 September
2014 August
2014 July
2014 June
2014 May
2014 April
2014 March
2014 February
2014 January
2013 December
2013 November
2013 October
2013 September
2013 August
2013 July
2013 June
2013 May
2013 April
2013 March
2013 February
2013 January
2012 December
2012 November
2012 October
2012 September
2012 August
2012 July
2012 June
2012 May
2012 April
2012 March
2012 February
2012 January
2011 December
2011 November
2011 October
2011 September
2011 August
2011 June
2011 May
2011 April
2011 March
2011 February
2010 December
2010 November
2010 October
2010 September
2010 August
2010 July
2010 June
2010 May
2010 April
2010 March
2010 February
2010 January
2009 December
2009 November
2009 October
2009 September
2009 August
2009 July
2009 June
2009 May
2009 April
2009 March
2009 February
2009 January
2008 December
2008 November
2008 October
RSS
Subscribe to Blog as an RSS Feed.