Efterklang Performing Parades In London + Live CD/DVD
Published 11 June 2009 by BWL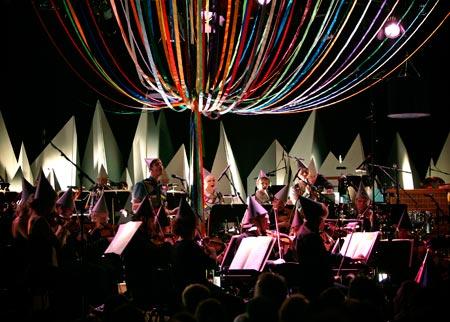 To celebrate the release of a brand new live album and film Performing Parades, Efterklang have confirmed a concert on 28 October at the Barbican in which they will perform 2007's Parades'' with The Britten Sinfonia. The orchestra previously teamed up with the Danish collective at this year's fuseleeds09 festival for a highly successful performance.
Core Efterklang members Rasmus Stolberg, Mads Brauer, Casper Clausen and Thomas Husmer will be joined by Efterklang regulars Rune Mølgaard, Peter Broderick, Katinka Fogh Vindelev (Oh Land), Niklas Antonson (Slaraffenland), Frederik Teige & Qarin Wikström.
The show coincides with the release of Performing Parades, limited edition deluxe CD/DVD and LP/DVD packages that feature the band's performance of Parades in their home town of Copenhagen last September, with The Danish National Chamber Orchestra. The 55-minute film is directed by Benjamin Hesselholdt, and is accompanied by an audio CD of the full concert.
"In many ways this release marks the pinnacle of what we have been trying to achieve with our two albums, Tripper and Parades," says the band's Casper Clausen. "It also closes a chapter as we work on taking our music in a new direction."
The DVD will be stuffed full of extras, including a behind the scenes documentary of the preparations for the event, and all the videos made for tracks from Parades, including lead single 'Mirador', which has racked up nigh on a million views on youtube:
http://www.youtube.com/watch?v=vSKIl-NeZeE
Performing Parades will be released on October 19. See all Efterklang's live dates here:
http://theleaflabel.com/efterklang
http://www.efterklang.net
http://www.myspace.com/efterklang
---
Wildbirds & Peacedrums Team Up With Micachu For BBC Session
Published 23 June 2009 by BWL
Wildbirds & Peacedrums were invited to record a session for BBC Radio 3's Late Junction show earlier this year, part of a series of monthly collaborative sessions that has so far taken in Adem + Sweet Billy Pilgrim, Tunng + Tinariwen and AGF + Gudrun Gut, all artists who have not previously worked together.
Mariam Wallentin and Andreas Werliin were asked who they would like to collaborate with, and chose London-based Micachu. Recorded at Maida Vale studios when Wildbirds were in town for the recent drum circle show at London's Coronet Theatre, the five musicians spontaneously reworked two songs by Wildbirds & Peacedrums, one by Micachu, and a cover version of a piece by electronic music pioneer Raymond Scott.
The session will be broadcast this Thursday (25 June). The show runs from 11.15pm to 1.00am BST. You will be able to stream the show for a week from the BBC website using the Listen Again function. You can also find some photos from the session here.
See all the band's tour dates here:
http://theleaflabel.com/wildbirdsandpeacedrums
http://www.myspace.com/wildbirdsandpeacedrums
---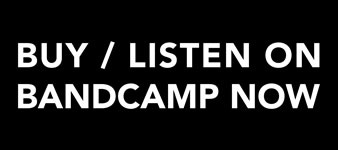 LATEST NEWS
ARCHIVED NEWS
2020 January
2019 December
2019 November
2019 October
2019 September
2019 August
2019 July
2019 June
2019 May
2019 April
2019 March
2019 February
2019 January
2018 December
2018 November
2018 October
2018 September
2018 August
2018 July
2018 June
2018 May
2018 April
2018 March
2018 February
2018 January
2017 December
2017 November
2017 October
2017 September
2017 August
2017 July
2017 June
2017 May
2017 April
2017 March
2016 November
2016 October
2016 September
2016 August
2016 July
2016 June
2016 May
2016 April
2016 March
2016 February
2016 January
2015 December
2015 November
2015 October
2015 September
2015 August
2015 July
2015 June
2015 March
2015 February
2015 January
2014 December
2014 October
2014 September
2014 August
2014 July
2014 June
2014 May
2014 April
2014 March
2014 February
2014 January
2013 December
2013 November
2013 October
2013 September
2013 August
2013 July
2013 June
2013 May
2013 April
2013 March
2013 February
2013 January
2012 December
2012 November
2012 October
2012 September
2012 August
2012 July
2012 June
2012 May
2012 April
2012 March
2012 February
2012 January
2011 December
2011 November
2011 October
2011 September
2011 August
2011 June
2011 May
2011 April
2011 March
2011 February
2010 December
2010 November
2010 October
2010 September
2010 August
2010 July
2010 June
2010 May
2010 April
2010 March
2010 February
2010 January
2009 December
2009 November
2009 October
2009 September
2009 August
2009 July
2009 June
2009 May
2009 April
2009 March
2009 February
2009 January
2008 December
2008 November
2008 October
RSS
Subscribe to Blog as an RSS Feed.