AU Sign To Leaf And Release Single
Published 8 December 2011 by BWL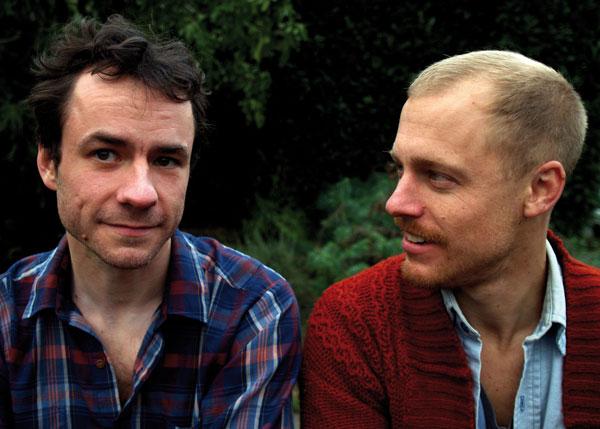 2012 looks set to be a very busy year for Leaf and we're thrilled to announce that we've signed the Portland, Oregon-based duo AU. AU is Luke Wyland and Dana Valatka and their first release with us will be 'Solid Gold', taken from their forthcoming album, Both Lights. The single will be released on Jan 9, with the album to follow in March.
AU (pronounced 'ay-you') first came to our attention in 2009 with the brilliant Versions EP, but Both Lights is really the long-gestating follow-up to 2008's Verbs album. In the interim Wyland has stripped his previously extensive band down to a two-piece, rewriting his own rulebook and honing the duo's considerable talents. They're quite capable of delivering astonishing, muscular live shows (Dana on drums, Luke playing everything else), something we hope you'll get the chance to see in Europe in 2012.
The 'Solid Gold' 7" also includes an exclusive song, 'under/Epic' (feat. Colin Stetson) and is limited to 500 copies for the world (just 150 for Europe). It's a joint release by The Leaf Label and Hometapes. Pressed on transparent yellow-orange vinyl, it's packaged with full-color transparent cover art in a heavy PVC sleeve, and includes a free digital download. You can stream/download the track here now or over at Pitchfork, where the track was previewed earlier today:
More info on the single here.
The 7" and digital download are available to order now from our shop.
Outside of Europe, they can be ordered from Hometapes via Bandcamp.
au-au-au.com
@autheband
Facebook
LATEST NEWS
LATEST RELEASES
ARCHIVED NEWS
2015 March
2015 February
2015 January
2014 December
2014 October
2014 September
2014 August
2014 July
2014 June
2014 May
2014 April
2014 March
2014 February
2014 January
2013 December
2013 November
2013 October
2013 September
2013 August
2013 July
2013 June
2013 May
2013 April
2013 March
2013 February
2013 January
2012 December
2012 November
2012 October
2012 September
2012 August
2012 July
2012 June
2012 May
2012 April
2012 March
2012 February
2012 January
2011 December
2011 November
2011 October
2011 September
2011 August
2011 June
2011 May
2011 April
2011 March
2011 February
2010 December
2010 November
2010 October
2010 September
2010 August
2010 July
2010 June
2010 May
2010 April
2010 March
2010 February
2010 January
2009 December
2009 November
2009 October
2009 September
2009 August
2009 July
2009 June
2009 May
2009 April
2009 March
2009 February
2009 January
2008 December
2008 November
2008 October
RSS
Subscribe to News as an RSS Feed.