Wildbirds & Peacedrums: New album and tour dates
Published 30 January 2009 by BWL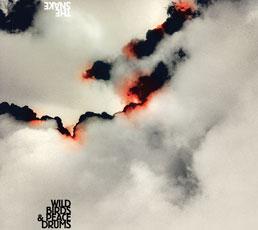 We are delighted to be able to announce the release of Wildbirds & Peacedrums' extraordinary second album, The Snake, on April 13. The follow up to Heartcore was recorded at the Soundtrack Of Our Lives-owned Svenska Grammofonstudion in their hometown of Gothenburg, Sweden. In addition to Andreas Werliin's invigorating percussion and Mariam Wallentin's mesmerising vocals, their sound is further enhanced with a range of instruments, including steel drum, piano, marimba and xylophones.
"This record is not the typical second album. You know – filled with a lot of doubts," explains Mariam. "We only work from intuition, on instinct. We're not looking for perfection in music, rather for life and feeling. We like to be more explosive!"
The album will be preceded by download single 'There Is No Light', which can be heard on the band's myspace page along with album track 'My Heart'.
Here is the video for 'There Is No Light', directed by Andreas Nilsson.

Wildbirds & Peacedrums - There Is No Light from Leaf Label on Vimeo.
The album will be available on Leaf in the UK and Ireland, Australia, Benelux, France and Italy (Haldern Pop Recordings will be releasing The Snake in Germany, Austria and Switzerland and it will available through Swedish label Caprice elsewhere).
Wildbirds & Peacedrums are currently in North America, touring with compatriot Lykke Li. The Swedish duo play a handful of low-key shows in Europe in late Feb/early Mar and then return to the States for SXSW. A full European tour will commence in April - more details to follow.
Fri 30 Jan 2009: First Unitarian Church, Philadelphia, PA, USA (with Lykke Li)
Sat 31 Jan 2009: Sixth & I, Washington DC, DC, USA (with Lykke Li)
Mon 2 Feb 2009: Webster Hall, NY, USA (with Lykke Li)
Tue 3 Feb 2009: Music Hall, Brooklyn, NY, USA (with Lykke Li)
Wed 4 Feb 2009: Club Soda, Montreal, PQ, CANADA (with Lykke Li)
Fri 6 Feb 2009: Phoenix, Toronto, ON, CANADA (with Lykke Li)
Sat 7 Feb 2009: Metro, Chicago, IL, USA (with Lykke Li)
Sun 8 Feb 2009: Varsity, Minneapolis, MN, USA (with Lykke Li)
Wed 11 Feb 2009: Commodore, Vancouver, BC, CANADA (with Lykke Li)
Thu 12 Feb 2009: Hawthorne, Portland, OR, USA (with Lykke Li)
Fri 13 Feb 2009: Showbox, Seattle, WA, USA (with Lykke Li)
Sun 15 Feb 2009: Fillmore, San Francisco, CA, USA (with Lykke Li)
Tue 17 Feb 2009: Glass House, Pomona, CA, USA (with Lykke Li)
Fri 20 Feb 2009: Lille Vega, Copenhagen, DENMARK
Sat 21 Feb 2009: Voxhall, Århus, DENMARK
Tue 24 Feb 2009: Pusterviksbaren, Gothenburg, SWEDEN
Wed 25 Feb 2009: Parkteatret, Oslo, NORWAY
Thu 26 Feb 2009: Hulen, Bergen, NORWAY
Fri 27 Feb 2009: Strand (fd. Street) Stockholm, SWEDEN
Sat 28 Feb 2009: Crawdaddy, Dublin, IRELAND
Mon 2 Mar 2009: The Social, London, UK
Tue 3 Mar 2009: Casa 139, Milan, ITALY
Wed 4 Mar 2009: Centre Culturel Suédois, Paris, FRANCE
Thu 5 Mar 2009: Club 3voor12, DeSmet, Amsterdam, NETHERLANDS
18-21 Mar 2009: SXSW, Austin, TX, USA
Wed 1 Apr 2009: The Albert, Brighton, UK
Thu 2 Apr 2009: Norwich Arts Centre, Norwich, UK
Fri 3 Apr 2009: Arnolfini, Bristol, UK (with Dirty Projectors, Polar Bear & Lucky Dragons)
Sat 4 Apr 2009: Leadmill, Sheffield, UK
Sun 5 Apr 2009: Captain's Rest, Glasgow, UK
Mon 6 Apr 2009: Dulcimer, Manchester, UK
Tue 7 Apr 2009: The Luminaire, London, UK
LATEST NEWS
LATEST RELEASES
ARCHIVED NEWS
2014 August
2014 July
2014 June
2014 May
2014 April
2014 March
2014 February
2014 January
2013 December
2013 November
2013 October
2013 September
2013 August
2013 July
2013 June
2013 May
2013 April
2013 March
2013 February
2013 January
2012 December
2012 November
2012 October
2012 September
2012 August
2012 July
2012 June
2012 May
2012 April
2012 March
2012 February
2012 January
2011 December
2011 November
2011 October
2011 September
2011 August
2011 June
2011 May
2011 April
2011 March
2011 February
2010 December
2010 November
2010 October
2010 September
2010 August
2010 July
2010 June
2010 May
2010 April
2010 March
2010 February
2010 January
2009 December
2009 November
2009 October
2009 September
2009 August
2009 July
2009 June
2009 May
2009 April
2009 March
2009 February
2009 January
2008 December
2008 November
2008 October
RSS
Subscribe to News as an RSS Feed.