Matthew Bourne's World Tour Of London
Published 18 September 2012 by BWL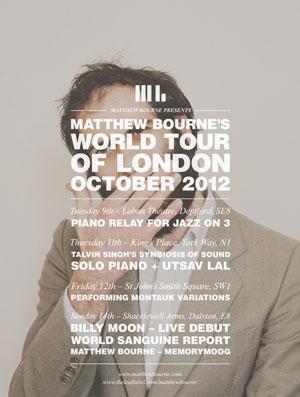 Pianist Matthew Bourne embarks on a trailblazing World Tour Of London (grab flyer here) this October. There will be four separate and very different performances in the capital between October 9 and 14, showcasing Bourne's multifarious talents. In addition, he has added other solo shows in the UK (see our live page here).
We're launching the tour with a quintessentially Bourne video clip. In this Jubilee year, he pays tribute to our reigning monarch with this rendition of the National Anthem...
The first show of the tour, at Deptford's Laban Theatre, brings together six of the UK's leading jazz and improvising pianists for a unique 'Piano Relay' event, featuring duo performances and a relay in which all six musicians perform an extended, improvised piece in spontaneous combinations. The performance will be recorded for future broadcast on BBC Radio 3's Jazz On 3 show. The other featured performers are Kit Downes, Liam Noble, Robert Mitchell, Alcyona Mick and Pat Thomas.
Show number two forms the opening night of Talvin Singh's Symbiosis Of Sound festival at King's Place. Bourne will perform improvisations on solo piano, as part of a bill that also features pianist Ustav Lal (playing his own compositions using the Indian classical melodic system). Talvin Singh gives a pre-concert introduction.
The following night, Bourne makes a headline appearance at the prestigious St John's Smith Square, performing pieces from his recent Montauk Variations album.
The World Tour Of London concludes with three performances in the rather less auspicious (if rather more happening) surroundings of Dalston's Shacklewell Arms. The bill for this free gig (book your ticket here) will be topped by the live debut of Billy Moon, a collaboration between Bourne and vocalist/multi-instrumentalist Seaming To. The duo will perform all new material, to be recorded for an album release in 2013.
Main support for this show comes from Andrew Plummer's visceral World Sanguine Report, with whom Bourne also performs.
Bourne opens the night himself with a short set of improvised pieces on his prized Memorymoog synthesizer. A splendid time is guaranteed for all.
Bourne plans to mount World Tours of other world cities in the future.
You can find all of Bourne's upcoming shows here (including UK gigs with Collider, World Sanguine Report, Bourne Davis Kane, and Nostalgia '77).
matthewbourne.com
theleaflabel.com/matthewbourne
@mortbutane
facebook.com/mortbutane
LATEST NEWS
LATEST RELEASES
ARCHIVED NEWS
2019 July
2019 June
2019 May
2019 April
2019 March
2019 February
2019 January
2018 December
2018 November
2018 October
2018 September
2018 August
2018 July
2018 June
2018 May
2018 April
2018 March
2018 February
2018 January
2017 December
2017 November
2017 October
2017 September
2017 August
2017 July
2017 June
2017 May
2017 April
2017 March
2016 November
2016 October
2016 September
2016 August
2016 July
2016 June
2016 May
2016 April
2016 March
2016 February
2016 January
2015 December
2015 November
2015 October
2015 September
2015 August
2015 July
2015 June
2015 March
2015 February
2015 January
2014 December
2014 October
2014 September
2014 August
2014 July
2014 June
2014 May
2014 April
2014 March
2014 February
2014 January
2013 December
2013 November
2013 October
2013 September
2013 August
2013 July
2013 June
2013 May
2013 April
2013 March
2013 February
2013 January
2012 December
2012 November
2012 October
2012 September
2012 August
2012 July
2012 June
2012 May
2012 April
2012 March
2012 February
2012 January
2011 December
2011 November
2011 October
2011 September
2011 August
2011 June
2011 May
2011 April
2011 March
2011 February
2010 December
2010 November
2010 October
2010 September
2010 August
2010 July
2010 June
2010 May
2010 April
2010 March
2010 February
2010 January
2009 December
2009 November
2009 October
2009 September
2009 August
2009 July
2009 June
2009 May
2009 April
2009 March
2009 February
2009 January
2008 December
2008 November
2008 October
RSS
Subscribe to News as an RSS Feed.