Melt Yourself Down - BBC 6 Music Lauren Laverne session
Published 14 April, 2016 by DM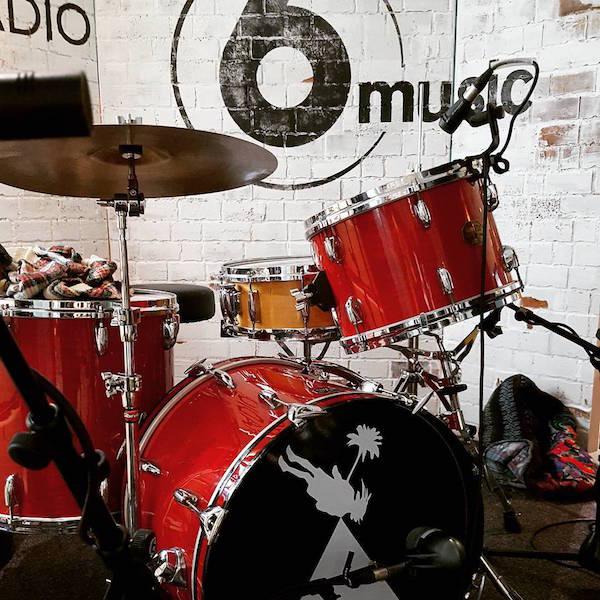 Lauren Laverne invited Melt Yourself Down to tear BBC 6 Music apart yesterday. If you missed it, what were you playing at? Thankfully salvation is yours in the form of the BBC iPlayer. Live session and interview in full here.
New MYD album Last Evenings On Earth is just over two weeks away. Check out the singles 'Dot To Dot', 'The God Of You' and 'Jump The Fire' on Bandcamp. Pre-order your LP/CD/Download and T-shirt bundles while you're at it.
Melt Yourself Down is a dish best served live and sweaty. Get your fix in the following places.
Wed 27 Apr - Shapes, London
Thu 28 Apr - The Brudenell Social Club, Leeds
Fri 29 Apr - Exchange, Bristol
Sun 1 May - Subtone, Cheltenham
Tue 3 May - Colchester Arts Centre, Colchester
Thu 5 May - 24 Kitchen Street, Liverpool
Fri 6 May - The Rainbow Courtyard, Birmingham
Sat 7 May - The Haunt, Brighton
meltyourselfdown.com
theleaflabel.com/meltyourselfdown
@meltyrselfdown
facebook.com/MeltYourselfDown
---
Jherek Bischoff at the BBC Proms
Published 14 April, 2016 by DM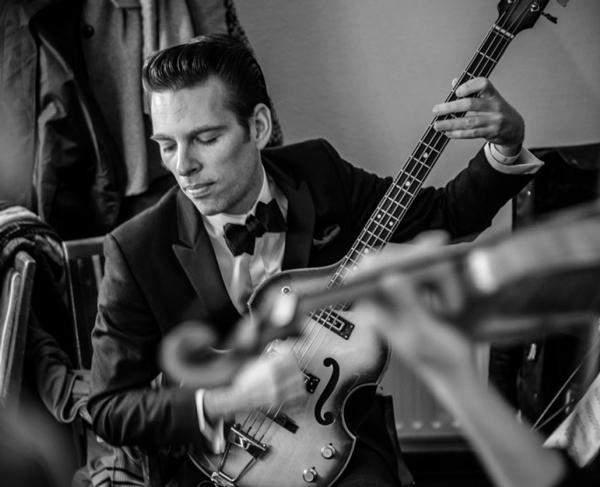 Following his recent collaboration with
Amanda Palmer
,
Strung Out In Heaven: A Bowie String Quartet Tribute
,
Jherek Bischoff
was invited to perform at the star-studded
David Bowie tribute concert
at Radio City, New York on April 1st. He performed alongside the likes of
Pixies, Blondie, Michael Stipe
and
The Flaming Lips
. Fine company indeed.
Now Jherek is coming over to this side of the pond to help celebrate David Bowie's life as part of the BBC Proms on July 29th… at the Royal Albert Hall! Details of the full line up are yet to be confirmed, but it will include Amanda Palmer and Anna Calvi performing music from Strung Out In Heaven, and Jherek will also be arranging other Bowie songs especially for the evening. We will keep you posted as to when tickets are on sale. In the meantime you can keep an eye here for developments.
In May and June, Jherek will be hitting the road on a co-headline tour of the US with Mirah. He will be taking this opportunity to air music from his forthcoming album. More on that soon...
Tour dates on our Live Page.
jherekbischoff.com
theleaflabel.com/jherekbischoff
@jherekbischoff
facebook.com/jherekbischoff
---
The Comet Is Coming - Channel The Spirits album stream
Published 30 March, 2016 by DM
Another near miss. The Comet has left its mark this time.
Channel The Spirits is the message. Jazzwise the messenger.
There is no need to panic. The prophets Danalogue The Conqueror, Betamax Killer and King Shabaka will prepare you spiritually for our fiery end. Listen closely. Dance like there's no tomorrow. Get in step with their gospel and salvation is truly yours.
Channel The Spirits is released on Friday. Pre-order on LP/CD/download on Bandcamp or the Leaf shop.
thecometiscoming.co.uk
@cometcoming
facebook.com/thecometiscoming
instagram.com/cometcoming
theleaflabel.com/thecometiscoming
---
Melt Yourself Down - The God Of You video
Published 18 March, 2016 by DM
Melt Yourself Down have unleashed their visceral new video for 'The God Of You'. Premiered earlier on Clash, it gives a strong indication as to what has driven MYD in writing forthcoming album Last Evenings On Earth, condensing the last 70 years into a bewildering and provocative 240 seconds.
"It seems that we are repeating the same cycle as a species," explain Kushal Gaya. "Racism, gender issues and warmongering are still very much burning issues. It also seems the basic reaction to these issues always have an external manifestation, we tend to point the finger towards something else than ourselves. Maybe it is time to point the finger at ourselves and think that the problem is not outside us but very much an internal matter."
Last Evenings On Earth is released April 29th. Pre-order it on the MYD Bandcamp or Leaf shop. They will be hitting the road to coincide with the release. See our live page for details.
meltyourselfdown.com
theleaflabel.com/meltyourselfdown
@meltyrselfdown
facebook.com/MeltYourselfDown
---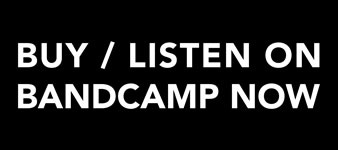 LATEST NEWS
LATEST RELEASES
ARCHIVED NEWS
2016 April
2016 March
2016 February
2016 January
2015 December
2015 November
2015 October
2015 September
2015 August
2015 July
2015 June
2015 March
2015 February
2015 January
2014 December
2014 October
2014 September
2014 August
2014 July
2014 June
2014 May
2014 April
2014 March
2014 February
2014 January
2013 December
2013 November
2013 October
2013 September
2013 August
2013 July
2013 June
2013 May
2013 April
2013 March
2013 February
2013 January
2012 December
2012 November
2012 October
2012 September
2012 August
2012 July
2012 June
2012 May
2012 April
2012 March
2012 February
2012 January
2011 December
2011 November
2011 October
2011 September
2011 August
2011 June
2011 May
2011 April
2011 March
2011 February
2010 December
2010 November
2010 October
2010 September
2010 August
2010 July
2010 June
2010 May
2010 April
2010 March
2010 February
2010 January
2009 December
2009 November
2009 October
2009 September
2009 August
2009 July
2009 June
2009 May
2009 April
2009 March
2009 February
2009 January
2008 December
2008 November
2008 October
RSS
Subscribe to News as an RSS Feed.